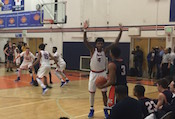 ---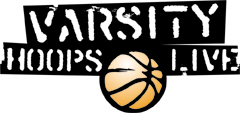 Beach Boys Set to Take Off for Alaska Airlines Arena
By Steve Dion
Tuesday- February 7th
2017
Boys
3A
Metro
Rainier Beach High School
1st
2nd
3rd
4th
Final
Eastside Catholic
13
16
9
17
55
Rainier Beach
23
12
23
31
89
---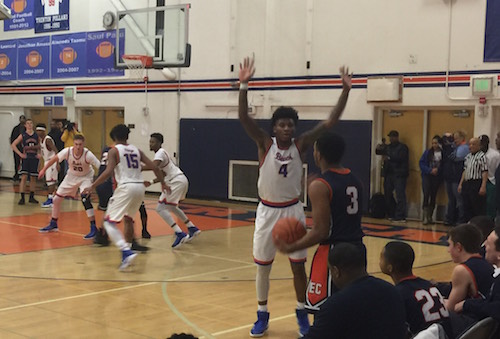 Kevin Porter Jr. Defending Eastside Catholic's Inbound Pass
After a snow day on Monday that canceled most school, Tuesday night Eastside Catholic came to the Jamaal Crawford court at Rainier Beach with upset on their mind. Nearly a month ago they played the Vikings in a tight contest that Beach was able to hold on to win 71-66 1/9. Brock Mackenzie got 22 that night (15 in the 1st Qtr) and the team jumped out to a 24-18 lead. The Crusaders needed the junior to step up again as Rainier Beach is playing with the confidence of a team that has been to the 3A state championship game 5 years in a row and winning 4.
Eastside Catholic got up 6-2 early. Quick buckets from Malik Putney and O'Landa Baker, off Beach turnovers and a pair of Mackenzie free throws and the Crusaders looked to be off an running. Fred Roberson knocked down a 3 and would end with 10 in the quarter as the Vikings went on a 21-7 run and were up by 10, 23-13 after the first 8 minutes. Four Crusader 3's in the second period, 2 from senior Michael Clemens, Baker and Mackenzie cut the lead to 6 points at half 35-29. Eastside poised to come out of the locker room and maybe get Rainier Beach on their heels. Brock Mackenzie knocked down a long 3 to cut the lead in half, but Kevin Porter Jr and Fred Roberson combined for 19 of the teams 23 points to put the game out of reach 58-38. The Crusaders Mackenzie hit 3 3's in the quarter but those were the only field goals for Eastside Catholic. Kevin Porter Jr would add 11 4th quarter points and leave the game with 4:08 remaining with 31 points, 3 dunks, a pair of 3's and 7-8 from the line. Roberson would finish with 18. Crusader junior Mackenzie would lead his team with 19, giving his all, fouling out with just over 3 minutes remaining. O'Landa Baker added 12, but Eastside Catholic could not keep pace with the Vikings, as they were out scored 31-17 in the final 8 minutes.
The Final Score
Rainier Beach 89, Eastside Catholic 55.
Top Performers:
Rainier Beach
Kevin Porter Jr.- 31 points
Eastside Catholic
Brock Mackenzie- 19 points