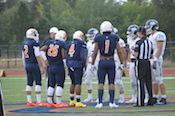 | Friday | Sep 2nd | 2016 | 4A/3A | Boys | Football |
| --- | --- | --- | --- | --- | --- |
| Eastside Catholic Stadium | 1st | 2nd | 3rd | 4th | Final |
| Gonzaga Prep | 7 | 0 | 0 | 0 | 7 |
| Eastside Catholic | 14 | 0 | 7 | 0 | 21 |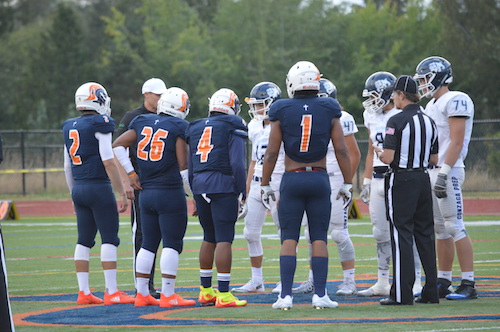 See game recap below
---
Crusaders Defense Stymies Bullpups in Battle of Champions
By Steve Dion
Week one of the 2016 high school football season placed a pair of undefeated teams from last year on the same field to determine supremacy between the 3A and 4A classifications. Gonzaga Prep who claimed the 4A title over Skyline headed west to take on the Eastside Catholic Crusaders who are back-to-back 3A champs.
The new-look Crusader offense led by Ze'Shaun Lewis who coach Jeremy Thielbahr said he is very confident in on our interview earlier in the week opened the scoring early when he found scat-back Tyler Folkes up the seam from 12 yards out.
Dave McKenna who talked about his smash-mouth style of football in our exclusive game week interview demonstrated such by pounding the rock against the EC defense all night. Kasey Anthony evened the score with a 8 yard dash to the goal line.
Before halftime, Eastside found the endzone once more, a 7 yard strike from Lewis to Aiden Hector giving the home team a one-score leading heading into the locker room.
As the game wore on and Prep struggled to create big gains on offense, EC's defense clamped down even more. Chris Lefau anchored a staunch front seven that kept the Bullpups of the scoreboard for the final three quarters of the game.
The Final Score:
Eastside Catholic 21, Gonzaga Prep 7.
Top Performer
Eastside Catholic
Tyler Folkes-2 receiving TDs (18, 23)
Gonzaga Prep
Kasey Anthony-8 yard rushing TD