| Friday | Nov 20th | 2015 | 3A | Boys | Football |
| --- | --- | --- | --- | --- | --- |
| Memorial Stadium | 1st | 2nd | 3rd | 4th | Final |
| Eastside Catholic | 14 | 14 | 13 | 6 | 47 |
| Bonney Lake | 7 | 0 | 0 | 0 | 7 |
See game recap below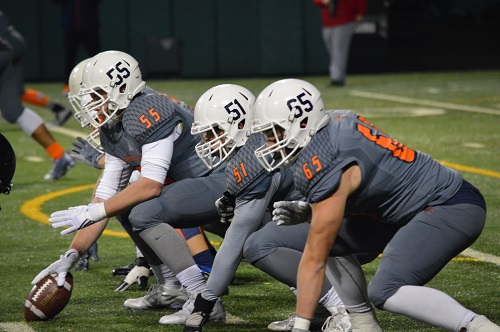 ---
Cru Rolls Past Bonney Lake, Advances to Semis
By Steve Dion
Jeremy Thielbahr's defending 3A champion Crusaders has looked the part of a team poised to defend their crown all season long. Eastside Catholic entered Friday three wins away from a repeat, but to advance to the semifinal round had a date with Bonney Lake. The 7-4 Panthers were fresh off a head-turning win against Lincoln last week and hungry for more. Coach Jason Silbaugh would get a crack at the state's best with his team peaking in November.
The opening kickoff was taken 86 yards to the endzone by Eastside's Brandon Wellington, but an illegal block in the back penalty negated the big play and gave the Panthers an early sigh of relief. The methodical Cru offense eventually punched the opening drive into the endzone on a 33 yard reception by Matt Laris on 4th and 14. The point after sailed wide right and the scoreboard read 6-0 early. Bonney Lake did what few teams do which is return the favor. A run-heavy drive was capped off with a 23 yard touchdown by Ethen Koepke on a screen pass by Dane Wagner in which several EC defenders were staved off en route to the goal line. The Panthers grabbed gained the lead. The Crusaders regained their composure and another drive highlighted by several Laris catches resulted in a 2-yard quarterback sneak by Harley Kirsch. Bonney Lake did not respond this time or any other drive for the remainder of the contest. A fumble at midfield in the second quarter was capitalized on by Eastside Catholic on a Tyler Folkes rushing touchdown and a dagger in the final moments of the first half; a 23 yard receiving touchdown by the always dangerous Devon Arbis-Jackson.
A 28-7 deficit against the Crusaders is a tall task to overcome and the Panthers were not able to climb back into this one. The implementation of a wildcat offense by Bonney Lake to start the 3rd quarter was effective in moving the chains early, but the direct snaps to Jason Day did not equate to points. The relentless ECHS offense recorded another pair of touchdowns in the third frame to put the game out of reach. The 47-7 final score was not fully indicative of the battle Bonney Lake waged in this contest. The Panther defense's inability to hold the Cru on 3rd and 4th down was the difference maker in this one. Eastside Catholic advances to face the winner of Kennewick and Lakes. Bonney Lake's 2015 campaign comes to an end.
The Final Score:
Eastside Catholic 47, Bonney Lake 7
Top Performers
Eastside Catholic
Harley Kirsch – 2 passing TDs (23, 33) 1 rushing TD (2)
Devon Arbis Jackson – 2 rec TDs (23, 36)
Tyler Folkes – 2 rush TDs (2, 39)
Bonney Lake
Ethen Koepke – 27 yard rec TD