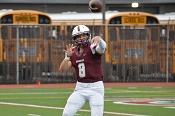 Friday
Sept. 18
2015
3A
Boys
Football
Mercer Island High School
Final
Bellevue
56
Mercer Island
0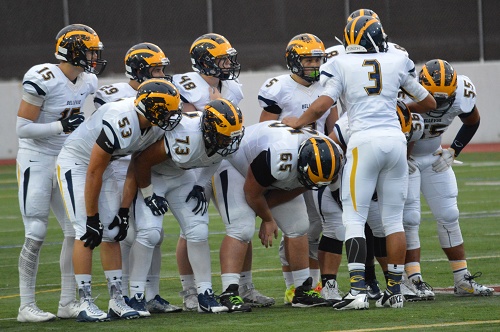 Bellevue Gets Back to Winning with Islander Shutout
By Steve Dion
It's rare that Bellevue heads into any game with a two game losing streak. Friday night was one of those exceptions as the Wolverines were looking to get back into the win column as the 2014 state championship game and '15 season opener with Bishop Gorman from Nevada were primed to be put in the rear view mirror. The challenger to this proposition would be rival Mercer Island who found themselves tied 21 apiece when they played at Bellevue last year before eventually losing.
The game started in familiar Wolverine fashion as a quick forced 3 and out on defense was followed by a 55 yard receiving touchdown by Tyson Penn on their first play from scrimmage. This was followed by another forced punt and 35 yard dart thrown by Justus Rodgers to Isaiah Gilchrist up the middle on 4th and six to put BHS up by 14 early. The onslaught had begun. The inability for the Islanders to gain an upper hand on the field position battle left them susceptible to allowing more scoring by the hungry Wolverines. After touchdown runs by Ercle Terrell and Christoph Hirota, Bellevue led 28-0 at the half.
More of the same continued in the final two frames as Justus Rogers scored on a QB keeper adding to the lead and further sealing the fate of the contest. The Islanders fought hard and the Mercer Island faithful showed up loud and proud, but they were unable to find the scoreboard.
The Final Score: Bellevue 56 Mercer Island 0.