---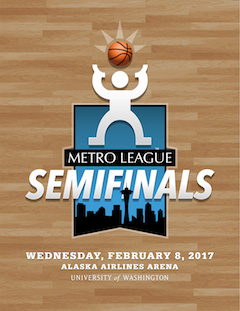 Hale Survives Scare By West Seattle in Metro Semis
By Colin Caruso
Wednesday- February 8th
2017
Boys
3A
Metro Semifinals
Alaska Airlines Arena
1st
2nd
3rd
4th
Final
West Seattle
16
24
9
10
59
Nathan Hale
18
16
17
21
72
---
Video Highlights
In the historic Hec Edmundson Pavilion and Alaska Airlines Arena, the Metro tournament was back in action for a semifinal matchup between West Seattle High School and the #1 team in the country, the Nathan Hale Raiders. Although suffering two defeats this year at the hands of Nathan Hale, the West Seattle Wildcats were not to going to back down to the juggernaut Raiders.
West Seattle led for the majority of the first half. Despite the large Hec Ed facility, they seemed right at home knocking down 3 after 3. Led by PG Nate Pryor in the first half, they took a 40-34 lead into the locker room at halftime. Despite good shooting by Michael Porter Jr. of Nathan Hale, the constant double teams forced him to pass, exactly what coach Keffrey Fazio of West Seattle wanted. At one point in the second quarter, all five Wildcats on the floor were smothering Michael Porter at the high post.
Nathan Hale received a motivating chat at halftime from coach Brandon Roy and came out on fire to start the third. Seven unanswered points gave them the first lead since early in the second quarter, 41-40. Even this quick burst did not intimidate Pryor and the Wildcats, they continued to battle and trailed by just two, 51-49 entering the fourth quarter.
After exchanging buckets for the first few minutes of the quarter, Michael Porter Jr. took the game into his hands. He followed up a missed free throw put back dunk with two mid-range jumpers and a thunderous dunk to take a 65-55 lead with under three minutes to play. West Seattle had no answer for the acrobatics of the Porters, Jontay and Michael, who scored all Nathan Hale's points in the first 14 minutes of the second half. Nathan Hale, despite trailing at half, cruised to a 72-59 win.
The Final Score
Nathan Hale 72, West Seattle 59
Top Performers:
Nathan Hale
Michael Porter Jr.- 42 points
West Seattle
Nate Pryor- 26 points