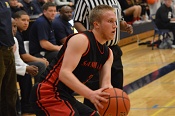 ---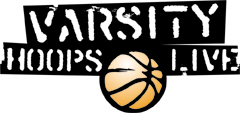 Bellevue Hands Sammamish First Loss, Takes Lead in 3A KingCo
By Steven Dion
Wednesday- December 16
2014
Boys
3A
KingCo
Bellevue High School
1st
2nd
3rd
4th
Final
Bellevue
13
20
15
22
70
Sammamish
9
11
9
18
47
---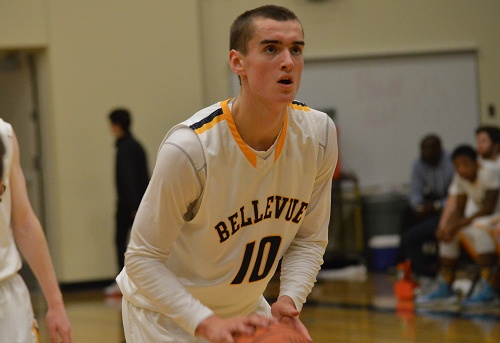 Bellevue Senior Gunther Klimes
Tuesday night's high school hoops schedule included a clash of two teams that were without a loss in their records. The Wolverines played host to the Totems with a chance to be perched at the top of the KingCo League standings. The home team features many of its key contributors to the state tournament last season; would Sammamish challenge one of the state's finest?
There was a high level of energy displayed in this contest as both teams were content with attacking the bucket in transition early in the shot clock. Bellevue's zone defense established their ability to create turnovers as their length and swarming nature resulted in Sammamish headaches. However, the Wolverines were unable to convert these takeaways to points, thus keeping the Totems within striking distance. Seven Wolverines scored in the second quarter giving the home squad a 33-20 lead by halftime. The final moments of the first half were quite a spectacle as Kyle Foreman seemingly had a clear path to another Bellevue bucket. Michael Shinaul chased the Wolverine senior down and made a phenomenal block near the rim. Shinaul came crashing down into the padding behind the basket knocking it off the wall. Meanwhile, Issac Garcia raced to pick up the loose ball that was bouncing toward the Sammamish bench. He collided with an official and both tumbled to the floor into the Totem bench as the buzzer sounded. There were seemingly more players on the hardwood than standing as the first half concluded.
To give themselves a chance to climb back into the game, it was imperative the Totems outscore Bellevue in the third quarter. Shaky free throw shooting by BHS was a start, but not finishing on their own possessions prevented Sammamish for cutting down the lead. Zach Moore, Andrew Kenny, and Foreman scored four apiece in the third and while captain Vlad Yadevich netted five, the Bellevue lead grew to 19 after three quarters. The depth of the Wolverines continued to show its strength as 8 players scored in the fourth quarter as the home team picked up its fourth win by the score of 70-47. The leading scorers in the game were Gunther Klimes and Kyle Foreman of BHS and Kyle Tracy of SHS who all scored 14 points.
Top Performers:
Bellevue
Gunther Klimes & Kyle Foreman-14 points
Sammamish
Kyle Tracy-14 points