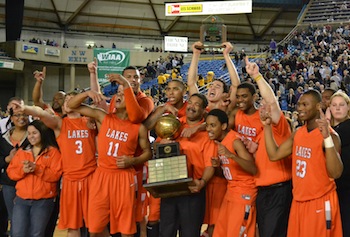 SATURDAY – 3A and 4A State Tournament Guide
theFinalScore.TV will be at the Tacoma Dome covering the 3A and 4A State Tournaments LIVE Saturday beginning at 2pm. Our team will bring you all the action and will talk to community leaders from each of the high schools participating in the 3A and 4A State Tournaments.
This is your guide to our coverage. Tune into the theFinalScore.TV's LIVE video feed from the T-Dome throughout the day. We'll have game updates, recaps, interviews and much more. Simply click below to watch now!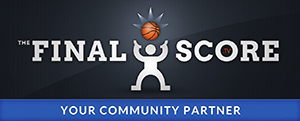 Click here to Watch Live Tacoma Dome Coverage
Starting at 3:00pm on Saturday
---
Saturday Game Schedule
4th and 6th Place Games
8:00 AM – 4A BOYS – Central Valley 56, Newport 39 FINAL
8:00 AM – 3A GIRLS – Kamiakin 47, University 36 FINAL
9:30 AM – 3A BOYS – Mountlake Terrace 54, Seattle Preparatory 43 FINAL
9:30 AM – 4A GIRLS – Gonzaga Preparatory 67, Inglemoor 59 FINAL
Click here for the 4A Tournament Scoreboard
3rd and 5th Place Games
11:15 AM – 4A BOYS – Garfield 80, Arlington 68 FINAL
11:15 AM – 3A GIRLS – Wilson 51, Bellevue 30 FINAL
1:00 PM – 3A BOYS – Lincoln 77, Franklin 69 FINAL
1:00 PM – 4A GIRLS – Mount Rainier 56, Lake Stevens 39 FINAL
Click here for the 3A Tournament Scoreboard
---

Championship Game Schedule
Championship Games
3A GIRLS – Cleveland 45, Seattle Preparatory 43  FINAL
Cleveland Eagles – 3A Girls State Champions
3A BOYS – Rainier Beach 62, Lakeside 59 FINAL
Rainier Beach Vikings – 3A Boys State Champions
4A GIRLS – Mead 58, Arlington 42 FINAL
Mead Panthers – 4A Girls State Champions
4A BOYS – Curtis 60, Jackson 56 FINAL
Curtis Vikings – 4A Boys State Champions 
ALL Championship Games are Live on Sports Radio KJR 950AM & 102.9FM
4A Boys Winners Bracket
3A Boys Winners Bracket
4A Girls Winners Bracket
3A Girls Winners Bracket