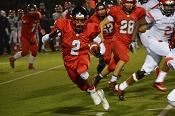 | Friday | Oct 23th | 2015 | 2A/1A | Boys | Football |
| --- | --- | --- | --- | --- | --- |
| Woolsey Stadium | 1st | 2nd | 3rd | 4th | Final |
| Archbishop Murphy | 7 | 14 | 14 | 14 | 49 |
| King's | 0 | 7 | 0 | 0 | 7 |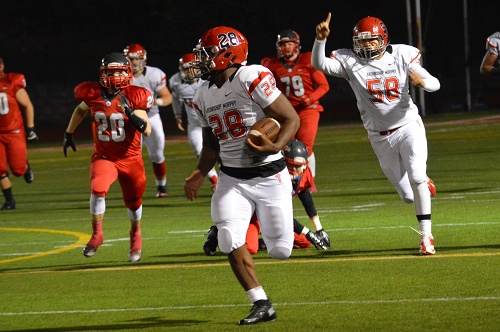 See game recap below
---
Archbishop Murphy Routs King's, Remains Undefeated
By Steve Dion
There are two leaders in the Cascade League that have emerged from the rest of the pack and week eight would retain one of two blemish-free records between Archbishop Murphy and King's. The visiting AM Wildcats entered the ballgame with a remarkable 353-19 scoring tally in the first seven games. Jim Shapiro's home King's squad opened the season with an impressive victory over perennial 2A contender Lynden and kept winning. It was senior night for King's at Woolsey Stadium; would the Knights defend their home field against league rival?
After receiving the opening kickoff, Wildcat tailback Kerry Jackson rumbled 82 yards to the house and gave AMHS an early lead. This immediate strike gave the visitors an upper hand off the bat and would serve as a catalyst for the remainder of the contest. Midway through the first, the Knight's defended a fake punt by AM in Wildcat territory. Would the Knight's make them pay? Nope. Anfernee Gurley intercepted a Knight's pass thirty seconds later and was rewarded with a 10 yard touchdown pass by Connor Johnson on the first play of the second quarter. King's put together a scoring drive set up by a Jake Welch pick that allowed Andrew Cline to pound the rock into the endzone and bring the score to 21-7. Archbishop Murphy didn't blink. Kerry Jackson scored another touchdown minutes later after steamrolling a King's defender at the goal line. At the half, the visitor led 21-7.
The opening drive for King's in the second half seemed important to set the tone for the remainder of the ball game. Unfortunately, they were unable to move the sticks and were forced to punt immediately. The Wildcats put the game out of reach on the ensuing drive when Jackson completed the hat trick on another touchdown run. The rout was in full effect as Archbishop Murphy recorded 21 more points before the final whistle. With a 49-7 final score, Archbishop Murphy has emerged as the clear favorite in the Cascade League. However, King's has the ability to steer the ship back in the right direction moving forward. They need to get some key starters healthy and put this fluky loss behind them.
The Final Score:
Archbishop Murphy 49, King's 7