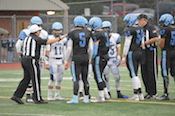 | Saturday | Nov 5th | 2016 | 3A Playoffs | Boys | Football |
| --- | --- | --- | --- | --- | --- |
| Interlake High School | 1st | 2nd | 3rd | 4th | Final |
| Interlake | 13 | 0 | 0 | 0 | 13 |
| Gig Harbor | 0 | 14 | 0 | 0 | 14 |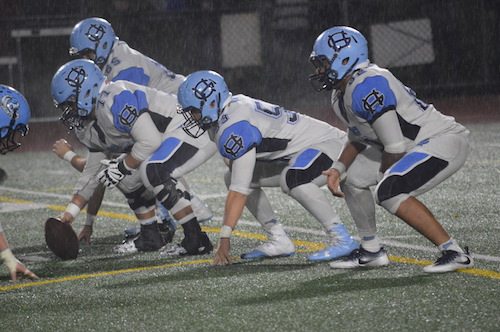 See game recap below
---
Gig Harbor Fends Off Interlake in Playoff Downpour

By Steve Dion
A late Saturday afternoon with unrelenting rain at Interlake High School was the scene for an opening round playoff matchup between the host Saints and visiting Gig Harbor Tides.
Interlake was ready to defend their home field at the onset as their first play from scrimmage was a flea flicker to put them within striking distance. Moments later, Duncan Varela found Micheal Veliyev behind the Tide secondary for the opening score of the game from 31 yards out.
A minute later, Veliyev picked off Nick Yockey's pass and the Saints were in business.
In the closing seconds of the first quarter, Varelia connected with Charlie Galanti to put Interlake up by 13. The Tides were reeling.
Needing a successful drive, the Gig Harbor put together a series of plays which eventually placed them in striking distance for their first points of the game; a fake handoff by Ben Hollenbeck which allowed the Tide quarterback to trot into the endzone untouched.
Feeding off the momentum swing, Gig Harbor came up with a fumble by the Saints and before the half concluded grabbed a one-point lead when Martin Brazier punched it in from 2 yards out.
When play resumed, so did the rain and a flurry of turnovers created a game which saw few legitimate scoring opportunities. The score remained 14-13 and the clock was winding down.
In the final two minutes of the contest, Interlake had the ball on the Gig Harbor side of the field and were driving. Varela was able to move the sticks a number of times to retain fresh sets of downs. The Interlake quarterback tucked the ball and was endzone bound, but the ball came loose and the Tide defense jumped on it within their own 5 yard line.
Utilizing timeouts effectively, Interlake was able to stop the Tides from running the clock dry and had one last gasp effort. However, Cole Workman hauled in a late interception to put the game on ice. Gig Harbor moves on in the 3A state playoffs, Interlake concludes their season.
The Final Score:
Gig Harbor 14, Interlake 13.
Top Performer
Gig Harbor
Martin Brazier- Go-ahead 2-yard TD