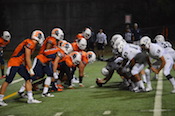 | Saturday | Sep 10th | 2016 | 4A/3A | Boys | Football |
| --- | --- | --- | --- | --- | --- |
| Memorial Stadium | 1st | 2nd | 3rd | 4th | Final |
| Skyview | 7 | 0 | 9 | 0 | 16 |
| Eastside Catholic | 7 | 10 | 0 | 14 | 31 |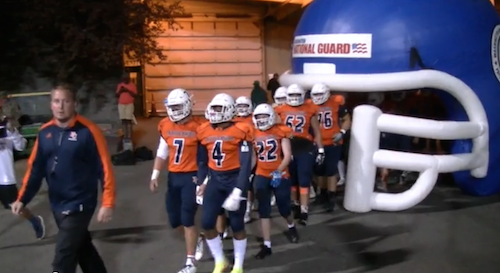 See game recap below
---
Eastside Catholic Fends Off Skyview in Memorial Classic Finish
By Steve Dion
The 3rd Annual Memorial Classic concluded with a dandy of a matchup between two of the top teams in the state: defending back-to-back 3A champs Eastside Catholic and 4A up-and-comer Skyview from Vancouver. Could the Storm end the in-state win streak held by the Crusaders which dates back to 2014?
Eastside opened the scoring on a roll-out by Ze'Shaun Lewis who found his favorite target Hunter Bryant dashing toward the endzone. Bryant was forced to sit the majority of the contest after getting banged-up on a kickoff shortly thereafter. Hayden Froeber responsed with a four yard punch-in to tie the game back up.
The second frame was big for the Crusaders who tacked on ten more points courtesy of a Chris Lefau touchdown and Ben Petersen field goal. Could the Storm rally in the second half?
Skyview answered the call in similar fashion when Tavis Chunphakvenn-Pinkney broke multiple tackles to find pay dirt and swing the momentum back in the Storm's favor. The fate of the game was in the balance heading into the final frame with EC up by a single point at 17-16.
Thielbahr's Cru responded with one of their pillars of success over the past few seasons which is 'Finish'. Tyler Folkes put Eastside up by eight on a goal line blast early in the fourth which set preceded a Lewis pass to Gee Scott moments later to put the nail in the coffin. Skyview put up a tremendous fight, but Eastside's composure was an impressive display of their continued success.
The Final Score:
Eastside Catholic 31, Skyview 16.
Top Performer
Eastside Catholic
Ze'Shaun Lewis- 2 passing TDs (18,42)
Skyview
Tavis Chunphakvenn-Pinkney- 8 yard receiving TD