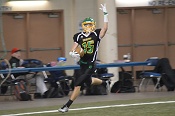 | Friday | Nov 27th | 2015 | 3A | Boys | Football |
| --- | --- | --- | --- | --- | --- |
| Tacoma Dome | 1st | 2nd | 3rd | 4th | Final |
| Bellevue | 21 | 14 | 14 | 7 | 56 |
| Bishop Blanchet | 14 | 7 | 7 | 0 | 28 |
See game recap below
---
Wolverines Double Up Blanchet in Semis, Championship Game Bound Again
By Steve Dion
Bellevue has become synonymous with championship football in Washington and their appearance at the Tacoma Dome during semifinal week is par for the course. Bishop Blanchet would look to continue their dream season under Coach Kyle Moore on the heels of a 73-28 blowout over Juanita last week.
The Braves demonstrated how green they were literally and figuratively as the first snap of the game was fumbled and recovered for a Wolverine touchdown. Bellevue struck again two minutes late as Isaiah Ifanse punched it in from two yards out to cap off a four-play, seventy-two yard drive and give BHS an early double digit lead. Needing a big play to spark Blanchet, the ever-reliable O'Shea Trujillo made a big play; a 39 yard fumble recovery for touchdown cutting the lead to a single score. This started a back-and-forth game trading touchdowns as the scoreboard read 35-21 in favor of the Wolverines heading into halftime.
Butch Goncharoff certainly reinforced the need to start halves strong because his team found the goal line early in the third on an Ercle Terrell run who finished with three total touchdowns. Once again, Bishop Blanchet answered the call on a trick play which involved a pass from Trujillo to a wide-open Christian Peter. The Braves finally recovered an onside kick afterwards, but failed to turn the momentum into points. This proved to be a backbreaker for Blanchet because Bellevue put the nail in the coffin to secure a 56-28 win. For the fourth consecutive year, the Bellevue Wolverines will face the Eastside Catholic Crusaders for the 3A state title.
The Final Score:
Bellevue 56, Bishop Blanchet 28
Top Performer
Bellevue
Justus Rogers 9/13, 171 yards, TD, 9 rush, 104 yards
Ercle Terrell 12 rush, 68 yards, 3 TDs
Bishop Blanchet
Clinton Allen Jr. 9 rush, 94 yards, 2 TDs