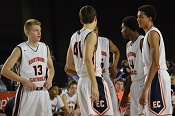 ---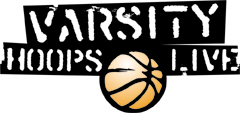 Beach Cruises to Another State Final
By Colin Caruso
Friday February 7th
2015
Boys
3A
State
Tacoma Dome
1st
2nd
3rd
4th
Final
Rainier Beach
22
4
13
22
61
Eastside Catholic
10
7
10
6
33
---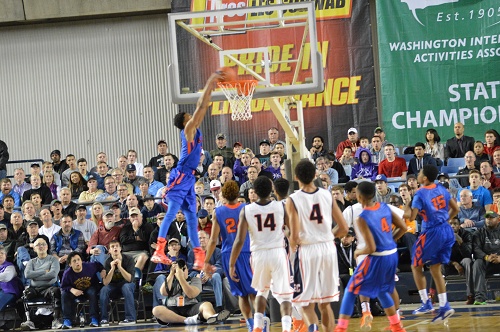 Rainier Beach Senior Dejounte Murray
The big question most coaches ask when facing the back, to back, to back, state champs, "What can we do to stop them?" Coach Bill Liley and his Eastside Catholic Crusaders were faced with that question on Friday night in the Tacoma Dome.
The Crusaders fell to the mighty Rainier Beach Vikings twice during the regular season, both times by double digits. The goal of this contest was to keep Rainier Beach out of transition, force a half-court game, and knock down shots.
Unfortunately for the Crusaders, they were unable to keep Beach out of transition, and struggled from the perimeter. Rainier Beach took a 22-10 lead into the second, backed by an emphatic De'Jounte Murray alley-oop slam.
Rainier Beach failed to score for the first six minutes of the second quarter. This obviously played into the Crusaders hands, who started the quarter on a 7-0 run. In a low scoring second, Beach took a 26-17 lead into the break.
With the first six points in the third quarter, the Crusaders turned this into anybody's game. Down just three, Eastside had the momentum and the Vikings struggles from the floor did not subside. But the shooting woes that plagued the Vikings transferred to the Crusaders, and they finished the third quarter with just 27 points.
Beach rolled in the fourth. Ivy Smith and Shadeed Shabazz began to knock down jumpers for the Vikings, as they extended their lead to as many as 28. Rainier Beach won the game 61-33, finishing the game on a 16-2 run. They will face off against the Bulldogs of Garfield for the 3A state title.
Top Performer:
Rainier Beach
De'Jounte Murray – 16 points, 14 rebounds, 3 steals