| Friday | Nov 29th | 2013 | 3A | Boys | Football |
| --- | --- | --- | --- | --- | --- |
| Tacoma Dome | 1st | 2nd | 3rd | 4th | Final |
| Eastside Catholic | 7 | 14 | 7 | 0 | 28 |
| O'Dea | 0 | 7 | 0 | 7 | 14 |
See game recap below
---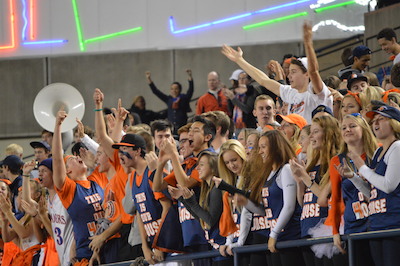 Eastside Catholic Advances to 3A State Final for Second Year in a Row
By Colin Caruso
In their second matchup of the season, the Eastside Catholic Crusaders were looking to avenge their only conference loss of the season in this state semifinal matchup against the powerhouse O'Dea Fighting Irish. After a spectacular interception by Eastside linebacker/running back Brandon Wellington, the Crusaders struck first with a 3 yard pass from Harley Kirsch to Matt Laris to take a 7-0 lead. O'Dea answered with a 61 yard run from star running back Myles Gaskin to tie the contest at seven.
After an injury to workhorse running back Brandon Wellington early in the second quarter, Eastside turned to their aerial attack and connected on a 64 yard pass from Kirsch to Colin Macilvennie to take a 14-7 lead. O'Dea put together a great drive after the Eastside score, but quarterback Pierre LeDorze was intercepted in the end zone by Wellington, his second on the day, who came back from injury to help the Crusader defense. That interception led to an 80 yard drive from the Crusaders, capped off by another Kirsch touchdown pass to Colin Boit with just 21 seconds left in the half. Eastside Catholic took a commanding 21-7 lead into halftime.
O'Dea received in the second half but was forced to punt after a good defensive stand from Eastside Catholic. The Crusaders then put together another long drive, this time 90 yards, capped off by a 22 yard run from Wellington to place a commanding 28-7 lead on the Irish. After the teams exchanged punts, O'Dea started to drive down the field but was halted after a fumble on the exchange between LeDorze and his fullback Jack Flor. Eastside recovered but was forced to punt back to the Irish just before the end of the third quarter.
O'Dea capitalized quickly in the fourth with a much needed score, a beautiful LeDorze pass for 41 yards to Bobiono Sims to make it a two score game, 28-14. But the Irish couldn't put together another solid drive; the Crusader defense was stifling, filling gaps and relentlessly pursuing the football. Eastside Catholic closed the game with a 28-14 victory and will play next weekend in the Tacoma Dome for the 3A state championship.
Top Performers:
Eastside Catholic
Harley Kirsch – 19/31 for 294 yards and 3TD
Brandon Wellington – 14 carries for 66 yards, 1TD, 2 defensive interceptions
O'Dea
Myles Gaskin – 20 for 134 yards TD