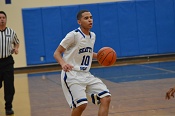 ---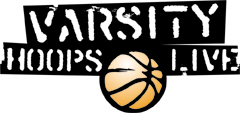 Worthy, Thybulle Register 15 Apiece as Crusaders Defeat Prep
By Steven Dion
Tuesday- January 27
2015
Boys
3A
Metro-Mountain
Seattle Prep High School
1st
2nd
3rd
4th
Final
Eastside Catholic
20
10
11
19
60
Seattle Prep
11
10
17
12
50
---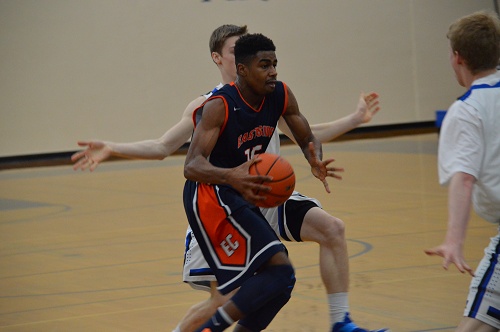 Eastside Catholic Mandrell Worthy
Any given Tuesday in the Metro League will deliver exciting basketball and showcase some of the top talent in the state of Washington. This particular night featured a clash of top ten squads as Seattle Prep would host the 2013 3A runner-up Eastside Catholic. The Mountain division leader heading into the contest was the Panthers, but a win for the Coach Liley's Cru would yield identical league records with a tie breaker to Eastside Catholic.
The visitors jumped out to a nice start by converting several offensive possessions into easy buckets through well executed sets. ECHS made use of the shot clock to earn good looks at the cup from crisp ball movement. University of Washington commit Matisse Thybulle netted seven of his fifteen points in the first quarter to help his team pick up an early 20-11 lead. However, the senior forward found himself in foul trouble and Seattle Prep responded with a boost in tempo. Sophomore guard Aaron Nettles dazzled the crowd with crafty passes to teammates and smooth ball handling to get penetration in the paint to open up offensive options. Each time the Panthers picked up momentum, Eastside was able to knock down a rally killer to protect their nine point lead heading into the locker room.
When play resumed, Mike Kelly drew up a new defensive scheme for Prep by plugging Jordan Kitchen into EC's backcourt. His long 6'8" frame created havoc for the Crusader offense and caused turnovers which sparked a Panther run to tighten up the contest. A 9-2 scoring spree to begin the third quarter caused Eastside Catholic to call a timeout as their lead shrunk to a deuce. J'Raan Brooks established his post presence by finishing tough shots near the cup and registering 8 of his 14 points in the third quarter. Nettles also drained a big three-pointer to help the blue and white climb back into the game heading into the final frame.
Eastside regained their composure in the fourth quarter and knocked down big shots to put pressure on Prep as the clock winded down. The free-throw contest in the final minute put EC to the test as SP tried to extend the contest. They passed with flying colors draining 11 of 13 from the charity stripe. Mandrell Worthy buried the final dagger on a cross-up jumper to give his team a lead they would not sacrifice. With the win, the new leader in the Metro-Mountain division hails from the Sammamish plateau.
The Final Score: Eastside Catholic 60 Seattle Prep 50
Top Performers:
Eastside Catholic
Mandrell Worthy (4/5 FTs) & Matisse Thybulle (2/2 FTs)-15 points
Seattle Prep
Aaron Nettles-17 points (8/10 FTs)