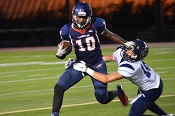 | Friday | Sept. 25 | 2015 | 1A/2A | Boys | Football |
| --- | --- | --- | --- | --- | --- |
| Renton High School | 1st | 2nd | 3rd | 4th | Final |
| Cascade Christian | 0 | 21 | 7 | 7 | 35 |
| Lindbergh | 7 | 7 | 0 | 7 | 21 |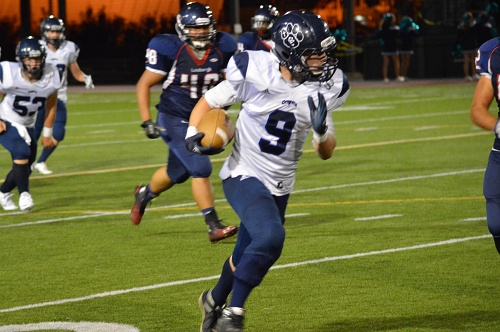 Cascade Christian Prevails in Clash of Nisqually Against Seamount
By Steve Dion
Week 4 of the high school gridiron season included an intriguing non-league game between the defending 1A champions Cascade Christian and rising Seamount squad Lindbergh. The setting was Renton Memorial Stadium featuring the airport in the backdrop where undefeated LHS played host.
The game broke out with a slow start as each team struggled to move the ball fluidly. The first big play of the game was an interception by Eagle cornerback Steve Celis. The home team would eventually capitalize on the momentum of the pick when Anthony Walker took a sweep 58 yards to the house. It wasn't until the second quarter when the visiting Cougars woke up. Senior tailback/defensive back combo Zach Bartolome rumbled up the gut for a 20 yard touchdown run to tie it up. Later, he forced a fumble and turned it into a 48-yard score and the lead ten seconds later. Needing a response to swing the momentum in their favor, Lindbergh capped off a long drive with a 6 yard scamper to the goal line by DeMarco Sauls. Before the half, Evan Patrick grabbed the lead at 21-14 when he took a 3 yard run to the end zone.
When the teams took the field for the second half, the rain started to fall onto the turf and the pace quieted down. Cascade Christian used extended possession to wind down the clock and continue to build their lead. Madden Tobeck put the Cougs up two possessions on a 1 yard goal line push. The inability of Lindbergh to establish an aerial attack allowed the CCHS defense to load up in the box and pressure Samuel Nehren. Lindbergh made a late charge with a fourth quarter score, but eventually allowed Cascade Christian to put a stamp on the contest with their fifth touchdown of the game. Both teams will carry a 3-1 record heading into next week.
The Final Score: Cascade Christian 35 Lindbergh 21