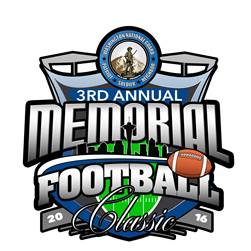 3rd Annual Memorial Football Classic 2016
Friday, September 10th & Saturday, September 11th at Memorial Stadium in Seattle
The Third Annual Memorial Football Classic is a special two-day event to celebrate Seattle high school athletes, to raise money for all Seattle public high school athletics, and to build support for the Metro League.
Media day for the Memorial Classic was held at Ballard High School Tuesday afternoon to meet coaches and players from the participating schools for a Q&A session. Also, speakers at the event included Seattle City Council President Bruce Harrell (Garfield & University of Washington alum), former Seattle Seahawks Paul Johns & Edwin Bailey, and Seattle Public Schools Director of Athletics Eric McCurdy.
Additionally, founder of the event Joey Thomas (Garfield head coach, Kennedy Catholic alum, NFL veteran) has selected Monte Kohler for the "Icon Award" from his long and distinguished coaching career at O'Dea and "Legends of the Game Award" to Terry Metcalf (Franklin alum, NFL veteran) for his outstanding coaching tenure locally.
Schedule of Events
Friday, September 9, 2016
5:00 pm – Archbishop Murphy vs. Bishop Blanchet
7:30 pm – Shelton vs. O'Dea
Saturday, September 10, 2016
Noon – Kennewick vs. Cleveland
2:30 pm – Juanita vs. Garfield
5:30 pm – Roosevelt vs. Ballard
8:00 pm – Skyview vs. Eastside Catholic