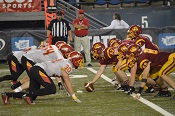 Friday
Dec 2nd
2016
3A Final
Boys
Football
Tacoma Dome
1st
2nd
3rd
4th
OT
Final
Kamiakin
0
0
0
7
7
14
O'Dea
0
0
7
0
0
7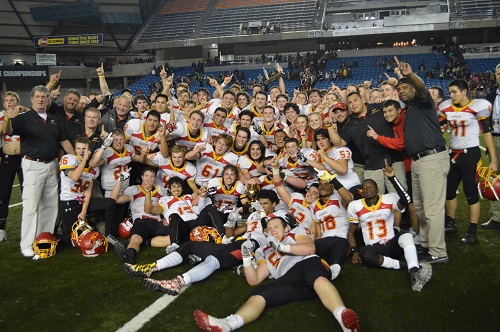 See game recap below
---
Kamiakin Wins an OT Defensive Thriller, Captures 2016 3A Washington Crown

By Steve Dion
In a year filled with milestones for longtime O'Dea coach Monte Kohler, one game separated his Fighting Irish from a state title and an undefeated season. To achieve that accomplishment, O'Dea would have to defeat a gritty Kamiakin Braves squad, fresh off a breathtaking win vs. the back to back 3A champion Eastside Catholic Crusaders.
Starting its third string quarterback Emonte Scott in place of Warren King and Ben Beale, the Irish were forced to rely on their power running game of Hunter Franco and Jamyn Patu. Conversely, Kamiakin utilized the improvisational skills of quarterback Zach Borisch.
The first half was marred by stalled drives, turnovers and relentless defense from both schools. A 0-0 halftime score was not the expectation for either team heading into the break.
O'Dea began the second half as they have in several big games this season with pitches to Patu in the "I" formation for long sweep carries. He found a gap for a big gain early in the third, and eventually closed the drive with a 20-yard scamper for the first points of the game. The game remained a stalemate for the next 18 minutes.
Late in the fourth quarter, with the score 7-0 O'Dea, the Braves needed to make an offensive push. From their own 47-yard line, Borisch connected with Darreon Moore on a short pass to score a 53-yard touchdown and tie the game with 4:24 remaining.
The Irish managed the clock through their power running game and put themselves in a position to kick a game winning field-goal with 3 seconds remaining in regulation. The kick sailed just right of the goalposts, sending the game to overtime.
Kamiakin had the first possession from the Irish 25, and Borisch dashed to the pylon for the go-ahead score before anyone in the Tacoma Dome could blink an eye. O'Dea was then forced to score a touchdown, but the stellar Kamiakin defense held strong and closed the door with a fourth down stand, becoming the 3A Washington 2016 football state champions.
The Final Score:
Kamiakin 14, O'Dea 7.
Top Performer:
Kamiakin
Zach Borisch- 2 total TDs