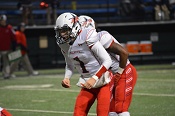 | Saturday | Nov 21st | 2015 | 3A | Boys | Football |
| --- | --- | --- | --- | --- | --- |
| Memorial Stadium | 1st | 2nd | 3rd | 4th | Final |
| Bishop Blanchet | 20 | 20 | 14 | 19 | 73 |
| Juanita | 7 | 14 | 7 | 0 | 28 |
See game recap below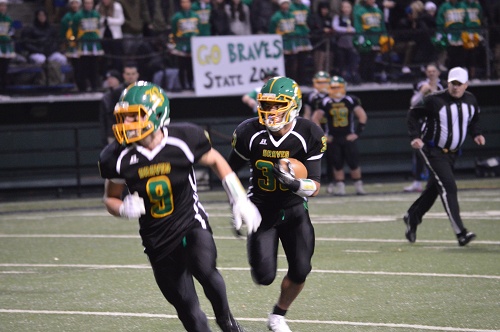 ---
Trujillo Magnificent as Braves March to Tacoma for Semis
By Steve Dion
A chilly Saturday evening at Memorial Stadium at the base of the Space Needle was the setting of the much anticipated 3A quarterfinal game between Bishop Blanchet and Juanita. The Rebels trounced Columbia River in the first round down in Vancouver while the Braves prevailed in a nail-biter against the Sumner Spartans who were red hot all season long. The winner of the clash between KingCo and Metro on this cold November night would earn a date with the victor of Bellevue & Glacier Peak in the comfy confines of the Tacoma Dome next weekend.
Blanchet began their onslaught early as their first play from scrimmage was a 56 yard touchdown run by dynamic tailback O'Shea Trujillo. The 6'0, 200 pound senior really seems focused on ending his Braves career on a high note. However, Juanita had a number of playmakers to contend with as Blanchet quarterback Alex Freeman connected with Christian Peterson and Clinton Allen Jr. before the Rebels could find the scoreboard. JHS halfback Salvon Ahmed punched the ball past the Blanchet defense to open their scoring, but facing a double digit deficit early, was it too little too late?
The signature moment in the contest occurred early in the second quarter when Antone Parente blocked a Juanita punt deep in Rebel territory. After swatting the ball, Parente picked up the rock and trotted into the endzone. The green-laden sideline erupted.
When play resumed, the fate of the contest became clear quickly as Coach Moore's Braves kept their foot down to secure the win.
By the time the scoreboard hit triple zeros (or in the case of the scoreboard at Memorial Stadium 0:80), the Braves recorded one short of a dozen touchdowns. The Rebels were limited to four touchdowns in total including a second for Ahmed, a 12 yarder for Dylan Moctezuma, and a Makiah Gilmer 8-yard grab on fourth down from Tavin Montgomery. Next week, the Braves will fight for a state championship appearance. They will certainly enter the game brimming with confidence!
The Final Score:
Bishop Blanchet 73, Juanita 28
Top Performer
Bishop Blanchet
O'Shea Trujillo- 4 rushing TDs (20, 49, 56, 65)
Clinton Allen Jr.- 3 receiving TDs (12, 35, 79)
Juanita
Salvon Ahmed- 2 rushing TDs