| Friday | Nov 27th | 2015 | 3A | Boys | Football |
| --- | --- | --- | --- | --- | --- |
| Tacoma Dome | 1st | 2nd | 3rd | 4th | Final |
| Eastside Catholic | 34 | 8 | 7 | 0 | 49 |
| Lakes | 7 | 7 | 0 | 7 | 21 |
See game recap below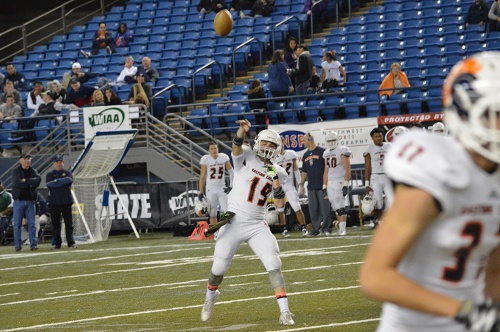 ---
Crusaders Jump Out to Big Lead Early, Headed to State Final Again
By Steve Dion
Eastside Catholic entered Friday with an opportunity to earn its fourth straight 3A championship game berth. To do so, they would have to contend with a surging Lakes team that collected wins over O'Dea, Kamiakin, and Kennewick to make their way to the nearby Tacoma Dome.
Crusader senior Brandon Wellington made his impact felt early in this one as he took the opening kickoff 84 yards to the house. The Lancers were clearly caught off balance in the first quarter as ECHS proceeded to score three more unanswered touchdowns in the first eight minutes of the contest including a pair by Devon Arbis-Jackson and a 81 yard reception from Harley Kirsch to Hunter Bryant. Lakes finally put their foot down and strung together a drive that was capped off with a Christopher Hun score from Jaiave Magalei. Wellington responded on another kickoff return for touchdown, this time from 82 yards.
Lakes regained momentum during the second quarter by cutting the deficit to 34-14 on a Andrew Bostic touchdown. The Lancers then recovered a fumble in Crusader territory and were on the doorstep of making it a two possession game. Ryan Taylor had other plans. The Eastside Catholic sophomore hauled in an interception that set up Wellington's third score that zapped the Lancer mojo.
The second half did not have a competitive element as the Cru did enough in the first half to cruise to a 49-21 victory. After the game, Wellington stated he hopes to face Wolverines for the fourth straight year, but not "if Bellevue isn't the best team out there…because if you want to be the best, you have to beat the best."
The Final Score:
Eastside Catholic 49, Lakes 21
Top Performer
Eastside Catholic
Brandon Wellington: 2 kickoff return TDs (82, 84), 1 receiving TD (12)
Harley Kirsch: 12/14 243 yards 4 TDs
Lakes
Andrew Bostic 22 rush, 190 yds
Jaiave Magalei 20/30 3 TDs 159yds 12 rush 75 yds