| Saturday | Nov 26th | 2016 | 3A Semifinal | Boys | Football |
| --- | --- | --- | --- | --- | --- |
| Pop Keeney Stadium | 1st | 2nd | 3rd | 4th | Final |
| Eastside Catholic | 10 | 0 | 17 | 0 | 27 |
| Kamiakin | 0 | 17 | 0 | 13 | 30 |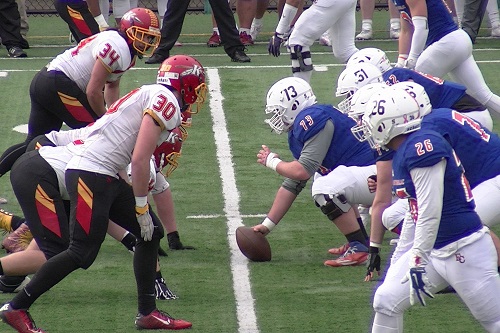 See game recap below
---
Kamiakin Spoils Crusader Three-peat Bid, Title Game Bound

By Steve Dion
The two teams representing the 3A state championship game were to be determined at Pop Keeney Stadium in a double dip, the first of which between reigning back-to-back champs and their challenger Kamiakin Braves.
In typical Crusader fashion, they were up a touchdown before anyone could blink when Chris Lefau scampered 62 yards to the house putting the Braves in a hole early in the ballgame. Kamiakin was able to move the ball down the field following the EC touchdown, but came away emptyhanded when it stalled and resulted in a missed field goal.
The Cru were able to grab their first double digit lead of the game when Scott Lees knocked through a 27 yard field goal before the first quarter expired.
Kamiakin needed a big momentum swing and they got it with a heavy dose of old school ground and pound football. The one-two punch of Zach Borisch and Jethro Questad moved the ball at will and scored 17 unanswered points in the second quarter to take a halftime lead. This included a pair Borisch quarterback keepers from 6 and 15 yards out respectively and a Garrett Paxton field goal.
Just like the game started, the Crusaders started the second half with a bang by recovering an onside kick. This led to a game tying score minutes later. Eastside continued to roll with 10 more unanswered point to take their second double digit lead.
Could the Braves fight back again?
Another string of chunk runs on the ensuing drive set up a tremendous touchdown reception by Benson Smith who hauled in a tipped ball showing complete concentration. The Kamiakin defense started to heat up and gave their potent offense another crack at the Cru. Isaiah Brimmer gave KHS the lead again on a picture-perfect fade route. The missed point after made the score interesting with the Braves only up by three.
In Eastside's final drive in the closing minutes, they were able to move the sticks, but the Braves prevented a big play by one of their many capable stars and closed the deal with a Brimmer pick with just over a minute remaining. A new 3A champion will be crowned this year.
Does Kamiakin have 48 more minutes of magic this season?
The Final Score:
Kamiakin 30, Eastside Catholic 27.
Top Performer
Kamiakin
Zach Borisch- 4 total TDs