---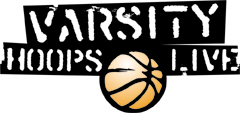 Franklin Holds off Prep's Late Surge
By Colin Caruso 
Tuesday- January 29
2013
Metro 3A
Franklin High School
1st
2nd
3rd
4th
Final
Seattle Prep
16
10
20
16
62
Franklin
22
16
13
16
67
---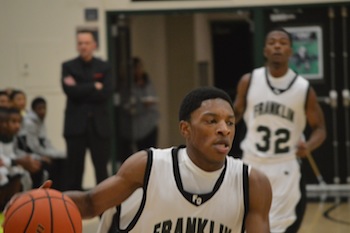 Franklin Senior Arell Hennings
The Prep Panthers trailed throughout the contest until they came back to tie up the score with 4:43 remaining in the fourth, but the Franklin Quakers closed out the game on a 14-9 run to win by five.
The game began with the hoop looking like the Pacific Ocean for both teams.  Prep took advantage of defensive breakdowns by the Quakers, with three wide open drives to the basket.  Franklin, behind eight first quarter points by Patrick Ball, hit from both inside and outside and held a 22-16 lead after the first.
The Quakers increased their lead in the second quarter, forcing seven Panther turnovers and converting on transition baskets.  Both offenses slowed their pace in the second quarter, but Franklin continued to pressure the ball, extending their lead to 38-26 at the half.  Senior Arell Hennings led the Quakers with nine points in the quarter.
Prep began their comeback in the third quarter, forcing five turnovers and converting on their first three pointer of the contest.  The Panthers, led by DJ Fenner with nine points in the quarter, cut the Quaker lead to 51-46 at the end of the third.
Both teams started out cold from the field in the fourth, combining for a total of six points three minutes into the quarter.  But the scoring heated up, started by Prep forcing five turnovers again in the fourth quarter and tying the game at 53-53.  The Quakers were not phased by the surging Panthers, as they made 5-6 free throws late in the fourth, and Patrick Ball and Freshman Keith Smith combined for 11 points in the quarter to win 67-62.
Leading Scorers:
Seattle Prep
Laurence Hicks (18)
DJ Fenner (17)
Sean Gummersall (17)
Franklin
Patrick Ball (22)
Arell Hennings (14)
Tim McMillon (14)