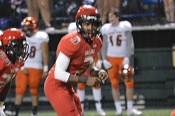 | Friday | Oct 30th | 2015 | 3A Metro | Boys | Football |
| --- | --- | --- | --- | --- | --- |
| Leon H. Brigham Field at Memorial Stadium | 1st | 2nd | 3rd | 4th | Final |
| Eastside Catholic | 12 | 28 | 0 | 0 | 40 |
| Ballard | 0 | 0 | 0 | 3 | 3 |
See game recap below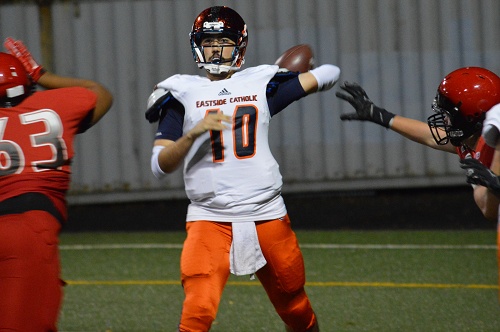 ---
Crusaders Capture Metro Title, Primed for Postseason Run
By Steve Dion
The final week of the regular season coincidentally pitted the top two Metro League teams in Eastside Catholic and Ballard for the city championship. For Jeremy Thielbahr and his high-flying Crusaders, this is just step one for a program designed to make another state title run. For Joey Thomas and Ballard, this game served as an opportunity to show how far the Beavers have progressed in a short period of time. Ballard has won as many games in 2015 as they did in the previous two seasons combined. The deck was stacked against the Beavs to go toe to toe with Eastside Catholic, how would they approach the challenge?
Like many opening drives for Eastside Catholic, the result was a touchdown. However, this was a drive that ate up nearly six minutes and pushed the Cru offense to convert on long yardage third and fourth downs. A long pass from Harley Kirsch to Hunter Bryant set up Brandon Wellington for a 3 yard score. The response drive by BHS was stalled at midfield forcing a punt which was not struck well. The short field for ECHS simply allowed them to score their second touchdown faster as Devon Arbis-Jackson hauled in a reception near midfield on a crossing route and took it 65 yards to the house. Ballard was walking on a tight rope at this point. The Beavs were moving up the field with chunks of yardage eaten up by Davine Tullis and Antoine Patton. Unfortunately, the possession took a turn when the ball was coughed up and taken 60 yards the other way by Malik Putney leading to a Tyler Folkes touchdown. The rout was on. By halftime the scoreboard read 40-0.
Joey Thomas deserves a great deal of credit for rallying his team at halftime facing an insurmountable deficit. Ballard would win the second half by preventing the Crusaders from adding to their point total albeit against the depth chart of Eastside Catholic. This game would not be a shutout as Jack Dineen punched a field goal through the uprights in the fourth quarter. With the win, Eastside Catholic demonstrates they have gas in the tank which will propel them in November and likely December. For Ballard, they will also be a postseason team with the experience of facing the state's finest.
The Final Score:
Eastside Catholic 40, Ballard 3