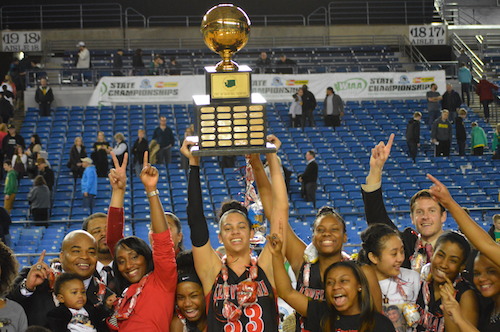 Bishop Blanchet takes on the top team in the state in the 2014 3A State Championship Game.
(theFinalScore.TV / ZUMA Media)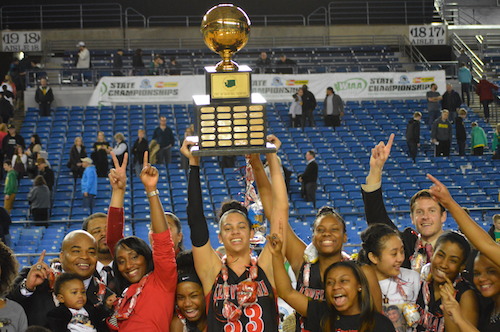 | Saturday | March 8th | 2014 | 3A | Girls | Basketball |
| --- | --- | --- | --- | --- | --- |
| Tacoma Dome | 1st | 2nd | 3rd | 4th | Final |
| Cleveland | 18 | 15 | 6 | 15 | 54 |
| Bishop Blanchet | 12 | 13 | 10 | 10 | 45 |
---
Back to Back State Titles for Cleveland
By Colin Caruso
Both the girls 3A and boys 3A state championship games featured teams from the Metro leagues in Seattle. This girls state championship game saw the Cleveland Eagles, undefeated in the state of Washington and 23-2 overall against the 20-4 Bishop Blanchet Braves. They faced off earlier this season just one time, resulting in a 65-50 Cleveland victory.
Cleveland won the state title last season over the Seattle Prep Panthers and the Eagles returned four of their five starters from that team. They were clearly the title favorites going into the year, and their perfect in state record kept them favorites in this matchup.
Led by 11 points from star guard Makayla Roper in the first quarter, the Eagles jumped out to an early lead. With balanced scoring the Braves closed the Eagle lead to six going into the second. With Roper not scoring a point in the second frame, the Eagles were still able to extend their lead. Myzhanique Ladd picked up what Roper left behind, adding seven points in the second to take a 33-25 lead into halftime.
The scoring dramatically slowed on both sides in the third quarter. Just six points from the Eagles allowed the Braves to get back into this ballgame. Great defense on both sides sparked the lack of offensive production. Blanchet cut the lead to four entering the fourth.
Blanchet continued to battle with the mighty Eagles in the final quarter. The lead was five for Cleveland with three minutes to play. Ladd was fouled on a coast to coast layup attempt and hit one of two to put the Eagles up six. After a Blanchet miss, Jayde Christopher converted on a layup to extend the lead to eight with under two minutes to play. After a Braves turnover Ladd added a floater to go up ten, effectively ending the game. This makes back to back titles for the Eagles, and three in the last five years for Coach Stephenie Wheeler-Smith.
Top Performers:
Cleveland
Myzhanique Ladd – 16 points, 9 rebounds, 4 steals
Makayla Roper – 17 points, 5 rebounds, 3 steals
Bishop Blanchet
Jadyn Bush – 10 points, 12 rebounds