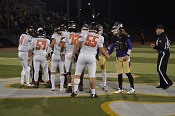 | Friday | Oct 28th | 2016 | 4A WesCo | Boys | Football |
| --- | --- | --- | --- | --- | --- |
| Lake Stevens High School | 1st | 2nd | 3rd | 4th | Final |
| Monroe | 0 | 0 | 0 | 3 | 3 |
| Lake Stevens | 14 | 21 | 7 | 0 | 42 |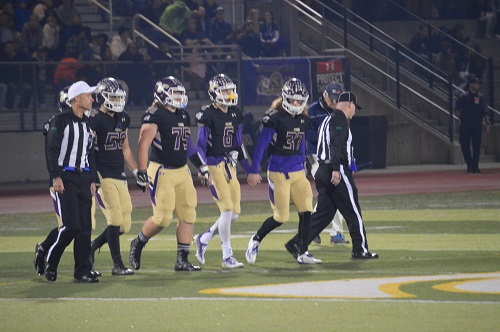 See game recap below
---
Lake Stevens Routs Bearcats for Fourth Consecutive League Title

By Steve Dion
The build up for what some dubbed "The Game of the Decade" in WesCo country was tremendous. The parking extended several blocks with standing room only. Virtually the entire town of Monroe showed up. Which undefeated heavyweight would prevail; the up-and-coming Bearcats or three-time defending champ Vikings?
Monroe was excited for this game, but maybe they were too pumped up in the early going. Lake Stevens' cooler heads prevailed throughout the entirety of the ballgame.
On their first drive, the offense converted a crucial third and long which set up a 45 yard Blake May touchdown less than two minutes into the game.
Monroe was unable to generate a response and Lake Stevens took full advantage by getting the ball into the hands of one of their premier playmakers Hunter Eckstrom whose availability was uncertain heading into the game. He took a pitch out of the backfield 63 yards to the house for a two score lead early.
Monroe began to shoot themselves in the foot because moments later they coughed it up and handed it right back over to the Viks.
Early in the second quarter quarterback Conor Bardue who has done a fantastic job taking over after Jacob Eason graduated found Josh Rasmussen from 33 yards out. The rout was on.
The Bardue/Rasmussen battery notched 4 touchdowns in the game one of which occurred immediately after an act of pure highway robbery by Anthony Hutchinson who ripped the ball from a Monroe ball carrier.
At halftime the scoreboard read 35-0 in favor of Lake Stevens. The total yardage was 298 to 74 in favor of the Vikings: a complete display of domination. Monroe's JJ Jerome never got in a rhythm and the vaunted lines of scrimmage were humbled by the hungrier Vikings.
The running clock did take effect in the third when Rasmussen's fourth and final touchdown put his team up and over the requisite 40 points.
Monroe was able to grind out a field goal, but those were the only Bearcat points in the game. They will have to shake this one off if they want to advance in the postseason.
Lake Stevens claims the WesCo 4A crown again and the #1 seed out of District 1 all the while looking like an increasingly dangerous team heading into the playoffs.
The Final Score:
Lake Stevens 42, Monroe 3.
Top Performer
Lake Stevens
Jake Rasmussen- 4 rec TDs