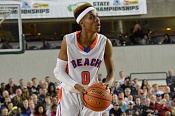 ---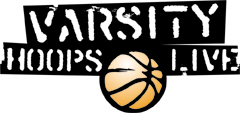 Garfield Ends Rainier Beach's Reign
By Colin Caruso
Saturday March 7
2015
Boys
3A
State Final
Tacoma Dome
1st
2nd
3rd
4th
Final
Garfield
11
15
18
22
66
Rainier Beach
12
14
15
10
51
---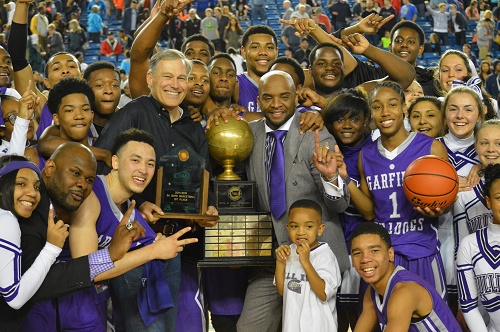 Garfield Bulldogs
In a rematch of the Metro championship game, and a matchup of the two best teams in the state of Washington, the stage was set in Tacoma to watch the athleticism unfold between Rainier Beach and Garfield. Both inter-city Seattle schools, both defending state champions (Garfield won 4A last year) with the coveted 3A crown to take home.
The game began with a frantic pace, as it always does with these two teams. Beach got off to a quick lead behind eight first quarter points from star De'Jounte Murray. But the Bulldogs responded on the back of Jaylen Nowell, a sophomore star who responded with seven in the first.
Neither team slowed down in the second quarter; the pace remained at the highest level of the tournament. Even with the extremely fast pace both teams took care of the ball quite well, not allowing the opposition to get easy buckets in transition. Both defenses held firm, and the halftime score was tied at 26.
The Tacoma Dome was electric to start the second half. Neither team was able to pull away in the third quarter, but Garfield appeared to have more control going into the fourth.
After a back and forth third, Garfield held a 44-41 lead entering the final frame.
Shadeed Shabazz started the quarter hot for the Vikings, converting on two straight layups in under 30 seconds to take a one point lead. The teams exchanged baskets, and Garfield continued to attack the basket, getting into the bonus, and knocking down their free throws. With three minutes to play, the Bulldogs held a five point lead.
De'Jounte Murray responded with a beautiful reverse layup, but the Bulldogs answered with a put back layup by Jaylen Nowell. After a Rainier Beach miss, Austin Anderson for the Bulldogs knocked down two more from the line to take a seven point lead, the largest of the game for either team. From there, the Bulldog floodgates opened, ending the game on a 17-2 run.
Congratulations to Garfield, the back to back state champions! This Garfield win ended a Rainier Beach run of three consecutive 3A boys state titles.
Top Performers:
Garfield
Jaylen Nowell – 23 points, 10 rebounds, 3 steals
Alphonso Anderson – 17 points, 14 rebounds, 2 blocks
Rainier Beach
Shadeed Shabazz – 22 points
De'Jounte Murray – 15 points, 13 rebounds, 2 steals, 2 blocks