---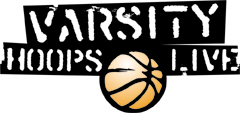 Henn's Explosive Second Half Propels Bellevue Past Crusaders
By Steven Dion
Tuesday- February 17
2015
Boys
3A
SeaKing
Bellevue College
1st
2nd
3rd
4th
Final
Bellevue
12
15
21
21
69
Eastside Catholic
12
10
9
16
47
---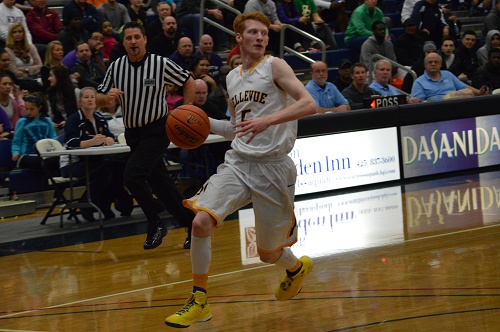 Bellevue Senior Kyle Foreman
The 3A District 2 tournament is underway and the second round was played on Tuesday night including a pair of contests at Bellevue College. The nightcap featured the 3A runner-up in the state championship tournament Eastside Catholic and a surging Bellevue squad who enjoyed a sense of home-court advantage due to close proximity. The winner would advance to the quarterfinals where they would take on Garfield who won the early game over Franklin. Conversely, the losing squad would move to the other side of the bracket where they would have a chance to finish up to fifth place in the highly competitive SeaKing district.
A buzzing gym with packed sidelines may have taken a toll on the nerves of both teams in the opening minutes, but it did not take long for each side to find a rhythm. An emphatic dunk by Gunther Klimes gave Bellevue a burst. EC responded moments later when Matisse Thybulle elevated for a one-handed tip jam that brought many people to their feet.
Tied at dozen apiece heading into the second quarter, the ability for one team to create some separation was available. The Wolverines seized the opportunity by stringing together an 11-0 run that ate up nearly five minutes. Sharif Khan scored five in the frame and Javon Jefferson provided a lift off the bench by knocking down two buckets in the quarter. Max Hudgins finally got the Cru off the scheid at the 3:30 mark when the senior knocked down a three-pointer. This allowed ECHS to close the quarter strong by outscoring the Wolverines 8-4 in the final minutes of the first half to cut the deficit to five points at 27-22.
Bellevue's versatile post Mikey Henn had a quiet three points in the first half, but that quickly changed in the second. A few early buckets including a monstrous two-handed slam earned the junior more time with the ball in his hands as the half progressed. Senior guard Kyle Foreman distributed the ball nicely to Henn in addition to knocking down shots of his own. He buried a pair from downtown en route to 15 points and ten by Henn helped Bellevue blow the doors off the game in the pivotal third quarter. The final frame was on cruise control for Chris O' Connors Wolverines as they chewed up clock and used precision passing to neutralize the Crusaders press. Henn netted eight more points to pad his game-high 21 point total. The BHS bench was emptied to protect the starters down the stretch and the clock wound down quickly as Bellevue ran away with a 22 point win.
The Final Score: Bellevue 69 Eastside Catholic 47
Top Performers:
Bellevue
Mikey Henn-21 points
Eastside Catholic
Max Hudgins-14 points