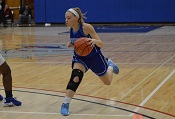 ---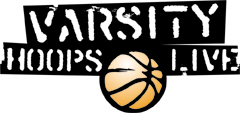 Corosdale Punches Bothell's Ticket to Tacoma
By Steve Dion
Friday- February 26th
2016
Girls
4A
Regionals
Bellevue College
1st
2nd
3rd
4th
Final
Curtis
7
5
13
12
37
Bothell
16
6
16
7
45
---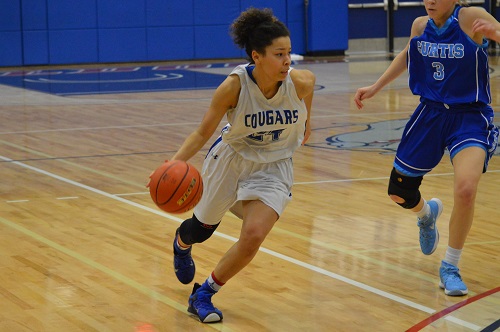 Bothell senior Jhasmin Shelton
The nightcap regional game on Friday at Bellevue College featured one-loss Bothell and the Curtis Vikings. With a trip to the tournament on the line, Bothell proved their consistency this season by jumping out to a comfortable first half lead through major contributions by top scorer Taya Corosdale. The senior post recorded 13 of her game-high 17 in the first two quarters to help the Cougs take a 22-12 lead into the break.
Bothell's lead continued to grow in the third quarter with a series of a transition buckets by Keyonna Jones, Sydney Cowan, and aforementioned Corosdale. However, Curtis sparked a fourth quarter run as a final move of desperation to preserve their season. Jalaiya Frederick and CeDrice Howard recorded a big chunk of their 13 and 11 points respectively down the stretch to draw the contest within six and the momentum in their hands.
Bothell was able to weather the storm by protecting the basketball in the remaining possessions to walk away with an eight point victory. The Cougars will finish their season in Tacoma with a chance to hoist the hardwoood!
The Final Score
Bothell 45, Curtis 37.
Top Performers:
Bothell
Taya Corosdale- 17 points, 6 rebounds, 4 blocks
Curtis
Jalaiya Frederick- 13 points
Cedrice Howard- 11 points, 10 rebounds