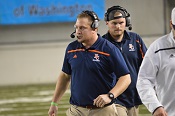 ---
2016 Varsity Football Live Interview
Eastside Catholic Crusaders – Head Football Coach
Jeremy Thielbahr
Football season is back!
Join us as Steve Dion catches up with Coach Jeremy Thielbahr as his back-to-back state title team opens their season with Gonzaga Prep.He talks about last year's 3A championship game which featured one of the most memorable comebacks in state history and how this year's crop of talent will look to keep the winning tradition rolling. Coach Thielbahr points out the leaders on this season's team and takes a look at the schedule including an overview of the challenging Metro League.
To catch the complete radio interview with Eastside Catholic Coach Jeremy Thielbahr,
simply click on the PLAY BUTTON below.