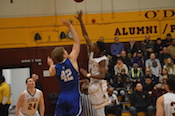 ---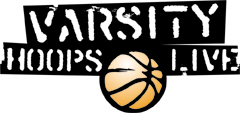 O'Dea Tops Prep on Senior Night
By Steve Dion
Friday- February 3rd
2017
Boys
3A
Metro
O'Dea High School
1st
2nd
3rd
4th
Final
Seattle Prep
10
20
22
18
70
O'Dea
20
12
25
16
73
---
O'Dea Sophomore Noah Williams & Head Coach Jason Kerr
On the final night of regular season play, O'Dea hosted their Capitol Hill rival Seattle Prep on senior night to close out another great year of Metro League play leading into the postseason.
The back and forth affair started with a hot start by the home team with Noah Williams & Xavier Smith knocking down shots early and giving the Irish an early ten-point advantage. As the first half progressed, Prep's floor general Aaron Nettles made his presence felt by beginning his three-point barrage and setting up his teammates with open looks to the cup. Trailing by a pair at halftime, could the Panthers get their bigs Collin Welp & Nic Lynch involved to head into the Metro League playoffs with a victory?
Prep emerged from the locker room on a mission as the visitors opened with an extended run primarily through deep shots from Nettles. In total, the senior guard knocked down a half-dozen from downtown as part of a game-high 27 points. However, O'Dea countered with Russell Whealdon as a deep threat and buried a four-pack from beyond the arc.
In the final minutes of regulation, the lead bounced back and forth several times with O'Dea taking a late lead on a tough Xavier Smith jumper in the paint. The lead grew to three after a Fighting Irish defensive stop and a pair of free throws. Seattle Prep called a timeout with a chance to draw up a play to push the game into overtime.
Nettles quickly received the ball on the baseline beyond the arc, his shot bounced of the side of the backboard back into control of Prep's Kalu Stricklin who quickly returned the ball to Nettles for a final shot. At the buzzer, the ball glanced off the front rim and the Irish players met at mid-court with exuberance after surviving a full full-quarter effort.
The Final Score
O'Dea 73, Seattle Prep 70.
Top Performers:
O'Dea
Xavier Smith- 24 points
Seattle Prep
Aaron Nettles- 27 points