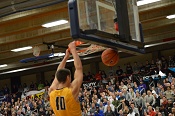 ---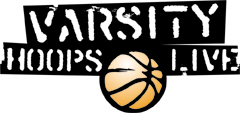 Rainier Beach Downs Wolverines For SeaKing Title
By Steven Dion
Saturday- February 21
2015
Boys
3A
SeaKing
Bellevue College
1st
2nd
3rd
4th
Final
Rainier Beach
27
14
15
14
70
Bellevue
19
13
12
12
56
---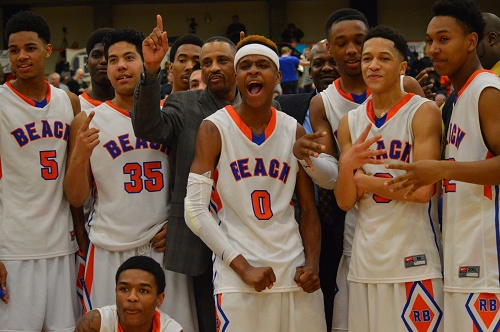 Rainier Beach Vikings
In what could become a state final matchup, the 3 time defending champs Rainier Beach squared off against a surging Bellevue team for the district title on Saturday at Bellevue College. The capacity crowd was eager to see two of the top teams in the state square off to determine district dominance. This particular game had seeding implications on the line in addition to an extra boost heading into regionals weekend. The stage was set: Metro League versus KingCo. Which league would prevail?
As Rainier Beach does better than anyone, the Vikings pressed the Wolverines in the backcourt with Ivy Smith and Shadeed Shabazz. This defensive effort provided dividends on the offensive end as Shabazz got a hot hand early. Bellevue countered with high scoring early as big man Mikey Henn notched eight points including a pair of triples in the first quarter. Ivy Smith connected on a long toss at the first quarter buzzer to give RB a 27-19 lead after one quarter.
Senior leader for Beach Dejounte Murray demonstrated his versatility by pulling down tough rebounds and controlling the Viking attack. He followed his 10 point first quarter with half a dozen more in the second frame. Murray finished with a game-high 22. The Wolverines kept pace with a variety of scoring options including reserve Andrew Kinney who provided a nice boost. At the break, RBHS held a nine point lead.
When play resumed, BHS was eager to find a groove and cut the deficit to set themselves up for a chance to win. Senior captains Kyle Foreman and Gunther Klimes attempted to will their team to reach that extra gear Bellevue is capable of locking into. Rainier Beach dashed their hopes on back-to-back possessions when a two-handed alley-oop slam by Murray was followed up by a defensive stop and a tomahawk slam by high-flying freshman Kevin Porter. Trailing by a dozen with a quarter to go, could Coach O'Connor rally the Wolverines?
Beach responded with a resounding "no" as Murray converted on two crucial possessions to put the game away. He zipped an assist to Vincenzo Reiser who was parked under the cup and on the next possession dished the rock to Ivy who knocked down a three while being fouled in the process. These two plays put the game on ice and propelled Rainier Beach to a district championship. Don't be surprised if these teams meet up again in the Tacoma Dome in March!
The Final Score: Rainier Beach 70 Bellevue 56
Top Performers:
Rainier Beach
Dejounte Murray-22 points
Bellevue
Gunther Klimes-15 points