| Friday | Oct 9th | 2015 | 3A | Boys | Football |
| --- | --- | --- | --- | --- | --- |
| Acosta Field | 1st | 2nd | 3rd | 4th | Final |
| Eastside Catholic | 14 | 21 | 13 | 6 | 54 |
| Bishop Blanchet | 6 | 0 | 0 | 0 | 6 |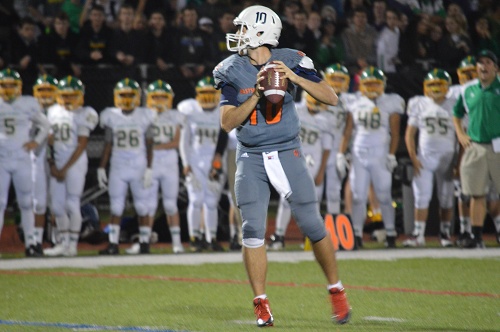 See game recap below
---
Eastside Catholic Remains Unscathed, Tops Blanchet on Senior Night
By Steve Dion
First year coach of Bishop Blanchet Kyle Moore led his team to one of the biggest wins in program history in week five of the 2015 campaign as they knocked off O'Dea for the first time in over two decades. The Braves were rewarded by putting their 5-0 record on the line against the top team in the state Eastside Catholic at Acosta Field on the plateau. Coach Thielbahr's Crusaders are firing on all cylinders in the state championship title defense season. Two teams entered the contest undefeated, which record would remain intact?
The home team put their offense on the field following a quick defensive stop and turned the possession into a score by Devon Arbis-Jackson in which the senior wideout shed multiple tackles. The critical drive following this Cru touchdown was highly successful for Blanchet as Alex Freeman marched his team down the field and O'Shea Trujillo closed the deal by crossing the goal line shortly after BBHS converted on a 4th and 21. Minutes later, Harley Kirsch found himself in the endzone after a 4-yard quarterback sneak to put ECHS up by 8. The Crusader defense started to clamp down on the green and yellow clad Braves as linebacker Noah Failauga among others controlled the middle of the field. A 62 yard punt return for touchdown by captain Jonathan Webster extended the Eastside Catholic lead and the blowout was starting to take form.
Missed opportunities for Blanchet such as not recovering a fumble forced on their 1 yard line played into their inability to keep pace with the state champs. Trailing 35-6 at the break, the fate of the game was virtually sealed as Kirsch and Co. entered halftime on a 6-yard touchdown run at the buzzer.
The lopsided matchup continued into the second half as the home squad would log 19 more points for a total of 54. What's more is the Crusader defense disallowed any second half points for Blanchet. With the win, EC will likely run the table in league play with bigger goals in mind during late November and early December. Blanchet will retain its position in the second tier of Metro and fight for seeding once postseason play begins.
The Final Score: Eastside Catholic 54 Bishop Blanchet 6