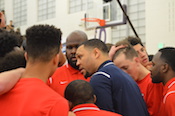 ---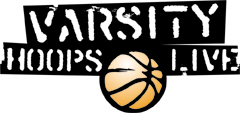 Roy's Raiders Remain Undefeated, Edge Alma Mater Garfield
By Steve Dion
Tuesday- January 27th
2017
Boys
3A
Metro
Garfield High School
1st
2nd
3rd
4th
Final
Nathan Hale
11
23
19
16
69
Garfield
17
14
13
21
65
---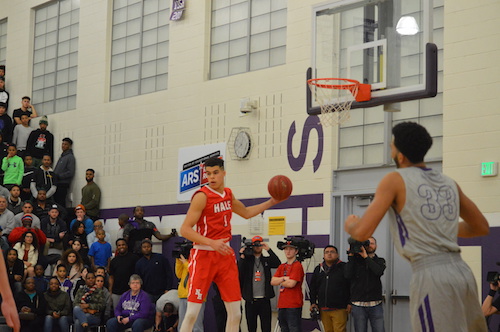 Nathan Hale Senior Michael Porter Jr.
This was the game we've all waited patiently for.
The top-ranked team in the country Nathan Hale led by Coach Brandon Roy returning to his old stomping ground…the place where he played high school hoops…to take on the Garfield Bulldogs in front of a national television audience.
Washington's top two teams met in the Les Schwab Invitational on December 29th with Nathan Hale winning in convincing fashion 87-64 en route to winning the tournament.
Could Hale keep their perfect record intact and retain their position as the best in the country?
Garfield quickly showed they were ready for the challenge as the home team jumped out to an early lead thanks to quick buckets by senior leader Jaylen Nowell. The poise shown by the Bulldogs served them well and allowed for a six point lead after one quarter.
Hale bounced back with a strong second quarter where Michael Porter Jr. started to heat up scoring 9 and sharpshooter Freddy Brown III netting 8. The momentum shift gave the Raiders and 8 point lead at the break.
When play resumed, the points were at a premium and Garfield found themselves in a precarious position heading into the final eight minutes. Haskins was able to rally the troops and give the home team a legitimate shot to stay competitive until the final whistle.
With the clock Hale's friend after another scoring spree by Porter Jr., Garfield was trailing by double digits with less than 3 to play. Nowell struck back with a 7 point run to cut the lead down to two possessions to get the gym rocking again. On the ensuing critical possession, Porter took the air out of the building with a turnaround fadeaway jumper which was promptly followed by Nowell's fifth foul to put the game on ice.
Coach Roy was able to guide his team to executing the final moments of the game and walked away with yet another statement victory to a season that continues to unfold as one of the greatest in state history.
Nathan Hale leads the season series 2-0, but don't count on tonight's game as the last time these two teams tussle!
The Final Score
Nathan Hale 69, Garfield 65.
Top Performers:
Nathan Hale
Michael Porter Jr.- 34 points
Garfield
Jaylen Nowell- 20 points