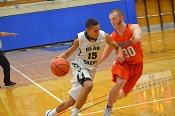 ---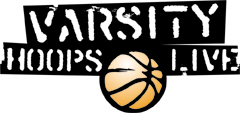 Monroe Overpowers Bear Creek in Opening Round of Holiday Tourney
By Steven Dion
Monday- December 29
2014
Boys
4A/1A
Non-League
Bellevue College
1st
2nd
3rd
4th
Final
Monroe
12
21
13
9
55
Bear Creek
14
8
13
4
39
---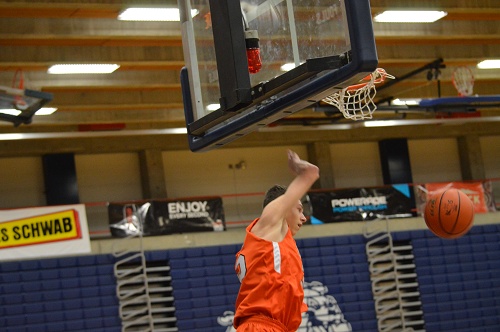 Monroe Freshman Colby Kyle
The 44th Annual Holiday High School Boys Basketball Tournament tipped off on Monday night at Bellevue College as eight teams vie for the title. The second of four games slated would match Monroe of 4A Wesco and 1A Emerald City league squad Bear Creek. The winner would advance to face King's in the second round whereas the team that fell in this contest would take on Hazen in the consolation bracket.
Monroe wasted no time getting on the scoreboard as the opening tip was advanced up the floor and converted to an easy layup in the opening seconds. The Grizzlies were not fazed by the quick basket as they strung together some offense primarily through Jonny Magee and Jordan Block. The pair accounted for 19 of BC's 22 first half points. Coach Tyson Horner's Bearcats grew stronger as the first half rolled along, especially after freshman Colby Kyle threw down a dunk after a steal on the defensive end. This propelled Monroe to taking a 26-19 lead midway through the second quarter prompting Coach Tyler Mendezona to call a Grizzlies timeout after his team's confidence started to wane. At the break, the Bearcats accumulated a double digit lead as the scoreboard read 33-22.
The third quarter began with a three-point spree as Monroe's Rhen Shore and BC's Block heated up from beyond the arc. However, trading buckets did not change the Bearcats lead heading into the final quarter. The Grizzlies needed a major run, but the call was not answered. There was a chance to cut the deficit to single digits midway through the fourth, but BC could not quite muster a late rally as the Bearcats locked up a 16 point victory.
The Final Score: Monroe 55 Bear Creek 39
Top Performers:
Monroe
Rhen Shore-13 points (5/9 FGs, 3 3-pointers)
Bear Creek
Jordan Block-17 points (6/13 FG's, 5 3-pointers)