---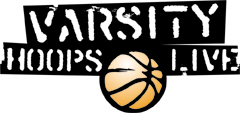 Cleveland Returns to Title Game for Third Consecutive Season
By Steven Dion
Friday- March 6
2015
Girls
3A
State
Tacoma Dome
1st
2nd
3rd
4th
Final
Cleveland
13
11
8
23
55
Bishop Blanchet
6
15
15
12
48
---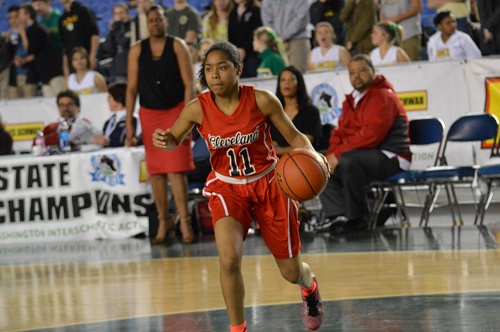 Cleveland Sophomore Zakeya Flowers
The first semifinal to determine a championship game berth in the 3A girls classification featured a rematch of last year's title contest between two-time defending champ Cleveland and the Braves of Bishop Blanchet. The Eagles have put together an impressive run thus far considering the group of seniors that graduated last season and the passing of the head coach torch. Similarly, Coach Willison has done an excellent job of bringing Blanchet back to a deep tourney run with a young squad.
Cleveland jumped out to an early lead as Jayde Christopher and Aqeelah Williams used their backcourt pressure to produce turnovers and points on the other end. They held BBHS to a half dozen first quarter points in the process. As the first half progressed, the tides turned and Jadyn Bush was a main reason for the comeback. The sophomore got tough buckets to fall and was aggressive on the boards. She finished with a team high 19 points and 10 rebounds. At the break, Cleveland led 24-21.
When play resumed, the Braves strung together a roll that last the duration of the third frame. Bella Kemp was a main factor in the momentum swing when she notched 11 points and 9 rebounds. The 36-32 Blanchet lead accounted for the first lead change of the game: would there be another? Joyce Harrell made her post presence felt as the senior heated up in the paint. Just as Harrell was in a groove, she was sidelined for a spell with a knee injury. Upon her return, the Eagles continued a 23-12 run in the fourth quarter that eventually sealed the game. Williams scored 25 in addition to 9 rebounds as Cleveland knocks off a familiar foe once again and is now one game away from a three-peat. Saturday vs. Lynnwood at 3pm!
The Final Score: Cleveland 55 Bishop Blanchet 48
Top Performers:
Cleveland
Aqeelah Williams-25 points (10/21 FGs, 5/9 3-pt FG's), 9 rebounds
Bishop Blanchet
Jadyn Bush-19 points (8/14 FGs), 10 rebounds