---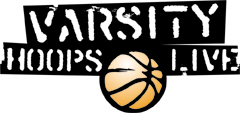 Cleveland Returns to Title Game for Third Consecutive Season
By Steven Dion
Friday- March 6
2015
Girls
4A
State
Tacoma Dome
1st
2nd
3rd
4th
Final
Gonzaga Prep
5
9
19
8
41
Todd Beamer
12
8
13
6
39
---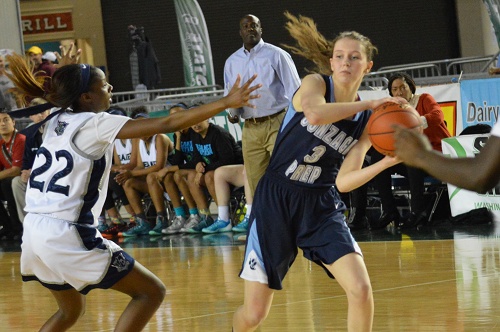 Gonzaga Prep Oona Harrington
The final girls game of Friday night was a 4A semifinal with Todd Beamer and defending champions Gonzaga Prep to determine Inglemoor's opponent in the title game. Occasionally, the Hardwood Classic features games that are wars of attrition and this particular matchup played out as such. A half dozen lead changes, four ties, and a heroic three-ball in the final seconds were the ingredients to determine the representative in the 2015 final from the bottom half of the bracket.
The defending champs rolled out to a slow start by only recording five first quarter points and submitting a seven point in the process. Todd Beamer grabbed the largest lead of the game early at 14-5 with Quinessa CaylaoDo heating up for what would become a monster game. With only four Bullpups recording points in the contest, the combination of Laura Stockton, Otionta Gildon, Tayler Drynan, and Oona Harrington would need to improve the 22% first half shooting percentage in addition to back-to-back single digit quarters. At intermission, Beamer led 20-14.
As Coach Mike Arte has shown many times in his coaching tenure with GPrep, halftime adjustments and the ability to instill composure in close ball games was demonstrated once again. The Pups strung together the highest point total of the game in the third to bring the score to a 33-33 tie heading into the final frame. The crowd at the Tacoma Dome started gravitating its attention to what was shaping up on the north court.
A tense fourth quarter with minimal scoring came down to a one point lead for Todd Beamer after a tough turnaround in the paint by Nia Alexander with under thirty seconds remaining. CaylaoDo recorded 20 of TBHS' 39 thus far and the Titans were one possession away from a state berth.
Stockton has the ball at the top of the paint…works the ball to the wing…the ball is passed to an open Lauren Weir in the corner but is tipped…Stockton recovers…ball back to the wing and Stockton twice more…clock is dwindling. Stockton hoists one up from the top of the key with a defender closing fast. Nothing but net. The Gonzaga sideline erupts. Beamer quickly inbounds the ball to set up a desperation shot but it is intercepted and a Bullpup is running the ball and clock to zero in excitement. The basketball is in the hands of Laura Stockton. Ballgame. Gonzaga Prep to its back to back state final.
The Final Score: Gonzaga Prep 41 Todd Beamer 39
Top Performers:
Gonzaga Prep
Laura Stockton-13 points, 7 rebounds, 4 steals, 2 assists
Todd Beamer
Quinessa CaylaoDo-20 points, 4 rebounds, 2 assists