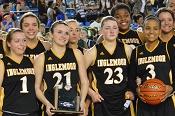 ---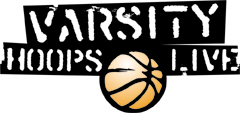 Gonzaga Prep Wins 2 OT State Finals Thriller
By Colin Caruso
Saturday
March 7
2015
Girls
4A
State
Final
Tacoma Dome
1st
2nd
3rd
4th
OT
2OT
Final
Inglemoor
4
15
14
12
4
3
52
Gonzaga Prep
15
16
12
2
4
8
57
---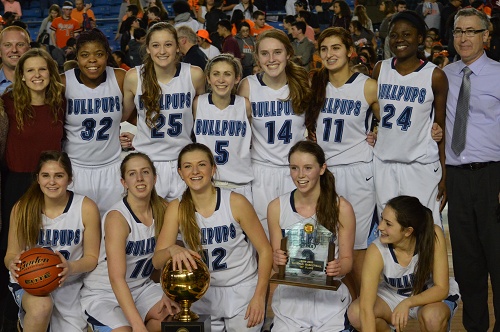 Gonzaga Prep Bullpups
Gonzaga Prep was back in the state finals, defending their title against the Vikings of Inglemoor in 4A girls basketball. This was a classic contest of size vs. speed, with Gonzaga Prep possessing the speed, and Inglemoor living in the paint on both ends of the floor.
Inglemoor star Deja Strother got into foul trouble early, forcing her to sit for a good portion of the first quarter, a first quarter that Gonzaga Prep controlled. Inglemoor had a tough time finding the basket and trailed 15-4 after one.
Inglemoor's offense opened up in the second quarter, distributing the ball more effectively and getting easy looks at the basket. Strother stayed out of foul trouble and was able to provide 11 points in the first half. But Gonzaga Prep was dominating the pace of play, and it was uptempo. Laura Stockton had eight points in the first half and Otiona Gildon added ten to take a 31-19 lead into the locker room.
Gonzaga Prep slowed their offense down in the third quarter, much to the chagrin of their coach. The speed change allowed Inglemoor to setup in the half court and control the paint. This allowed Inglemoor to go on a 9-2 run to start the quarter. Coach Arte of the Bullpups called a timeout to regroup, and it proved to work. His Bullpups responded and took a 10 point lead into the fourth.
Alex Hagen for the Vikings put in the first eight points of the fourth quarter to electrify the Inglemoor crowd. Down just two, the comeback was on. The run extended to 12-0, and Inglemoor took their first lead of the game. Laura Stockton stopped the bleeding with 30 seconds to go, the Bullpups first points of the quarter. That proved to be the last bucket of regulation and this game went to OT.
The Bullpups struck first in overtime with two free throws, answered by one free throw from the Vikings. With just 1:45 to play, the Bullpups held a one point lead.
The scoring subsided until 30 seconds remaining, when Strother hit a layup and was fouled. She hit the free throw, putting the Vikings up two. Stockton drove the lane on Gonzaga Prep's next possession and found Gildon for an easy two to tie the game. Double overtime!
Gildon struck first from the line for the Bullpups, hitting one of two. Tayler Drynan followed up with a three for Gonzaga Prep to extend the lead to 4, but the Vikings came right back with a three of their own.
Another one for two trip for the Bullpups, followed by an offensive rebound gave them the ball back with one minute to play. Oona Harrington knocked down a jumper for the Bullpups to go up four, and that jumper would seal it. The Bullpups won 57-52! Congratulations Gonzaga Prep Girls!
Top Performers:
Inglemoor
Deja Strother 22 points, 8 rebounds
Gonzaga Prep
Otiona Gildon – 17 points, 11 rebounds
Laura Stockton – 13 points , 9 steals