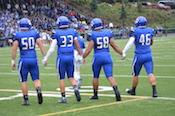 | Thursday | Sep 1st | 2016 | 4A | Boys | Football |
| --- | --- | --- | --- | --- | --- |
| Pop Keeney Stadium | 1st | 2nd | 3rd | 4th | Final |
| Glacier Peak | 7 | 10 | 6 | 6 | 29 |
| Bothell | 17 | 10 | 7 | 10 | 44 |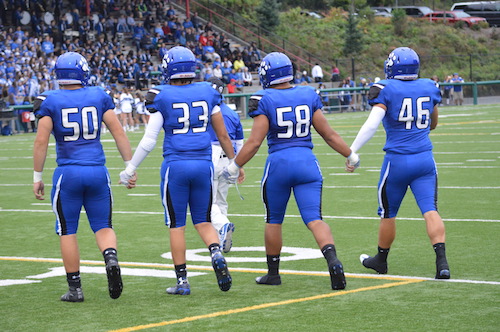 See game recap below
---
Bothell Rolls Past Grizzlies on Opening Night
By Steve Dion
A drizzly night at Pop Keeney Stadium in Bothell featured a 4A clash between Glacier Peak and host Bothell. This game had a college football feel in its heavy reliance on a passing attack leading to a high scoring affair that lasted well over three hours.
Glacier Peak struck first when Ayden Ziomas connected with Colton Bunt for a 65 yard score. Bothell quarterback Jacob Sirmon showed his tremendous arm strength on the following drive by launching a 58 yard bomb to Daniel Johnson off his back foot while taking a big hit from a Grizzlies linebacker at the point of release.
This set the tone for a back and forth affair leading to a 27-17 halftime score in favor of the home Cougars.
Bothell took a stranglehold on the game when Sirmon found Johnson again early in the third, this time for 75 yards. Peak scored shortly after on a Billy Lutali scamper up the gut, but the double digit deficit was too much to overcome.
The Final Score:
Bothell 44, Glacier Peak 29.
Top Performer
Bothell
Jacob Sirmon-4 passing TDs (19, 30, 58, 75)
Glacier Peak
Seiver Southard-2 receiving TDs (7, 41)