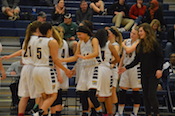 ---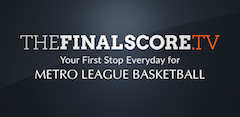 West Seattle Punches State Ticket with Resounding Regional Win
By Steve Dion
Saturday- February 25th
2017
Girls
3A
Regionals
Bellevue College
1st
2nd
3rd
4th
Final
Edmonds-Woodway
4
7
20
10
41
West Seattle
20
11
13
19
63
---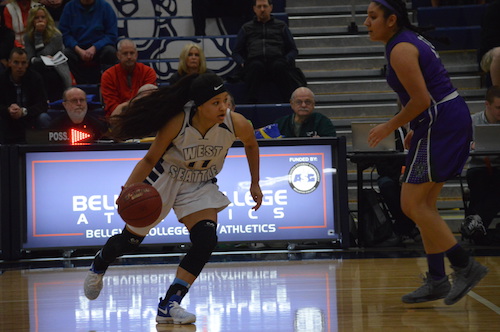 West Seattle Sophomore Jasmine Gayles
Bellevue College served as the site for a full day of Regional round basketball starting with a winner-to-state contest between the West Seattle Lady Wildcats & Edmonds-Woodway Warriors. Which team would earn its spot at the Dome next week?
The Metro League runner-up Wildcats used their trusted formula of tenacious defense leading to transition buckets from the opening tip including 11 first-half points by Jasmine Gayles who matched the Warriors first-half score. The lead progressively ballooned as the half wore on and by intermission, West Seattle found itself up by 20. Bailee Chynoweth provided a spark for Edmonds-Woodway, but she would need an explosive second half to propel her team back into the ballgame.
It didn't take long for the second half to become a matter of clock management as the potent full-court attack of West Seattle continued to push the lead built in the first two quarters. Edmonds-Woodway increased its offensive output in the third frame with Ingrid Fosberg knocking down a pair from the perimeter, but the Wildcats matched Woodway bucket-for-bucket and the margin never reached a point of jeopardy. A total of eight Wildcats players scored in the ballgame which included a 14-2 run midway through the fourth quarter put the game on ice. With the win, West Seattle is T-Dome bound.
The Final Score
West Seattle 63, Edmonds-Woodway 41
Top Performers:
West Seattle
Jasmine Gayles- 17 points
Edmonds-Woodway
Bailee Chynoweth- 11 points