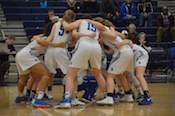 ---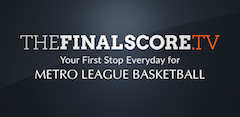 Seattle Prep Walks Tightrope to TDome
By Steve Dion
Friday- February 24th
2017
Girls
3A
Regionals
Bellevue College
1st
2nd
3rd
4th
Final
Prairie
11
19
6
17
53
Seattle Prep
11
18
11
15
55
---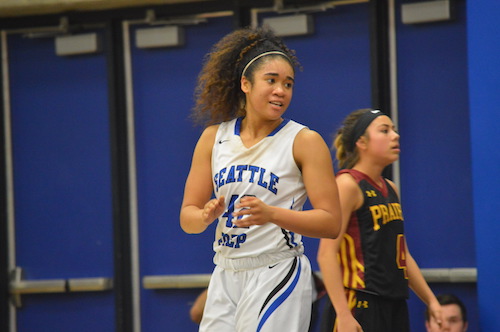 Seattle Prep Senior Chinwe Ezeonu
The nightcap of Regional play at Bellevue College on Friday night featured Seattle Prep & Prairie. The winner would earn itself a berth to state championship weekend at the Tacoma Dome in the first week of March.
The first half was a back-and-forth affair with both teams firing from long range effectively. Brook Walling recorded 17 first half points for the Falcons including a four-pack from beyond the arc. Prep countered with 9 from senior leader Chinwe Ezeonu. After a thrilling first two quarters, the Greater St. Helens representative Prairie led by a single point 30-29.
When the teams returned from intermission, the game entered a lull that lasted throughout the third quarter and ultimately dictated the outcome. The Falcons were only able to string together a half dozen points in the frame and the Panthers capitalized by taking a lead entering the fourth and final quarter. In the closing minutes, Ezeonu took the game into her hands by netting tough buckets down low as part of her team-high 21. Prairie's Jozie Tangeman countered with a strong fourth frame to keep her team within striking distance.
With under a minute to play, Bea Franklin connected on an off-hand scoop shot to put the Lady Panthers up four. The Falcons were able to cut the lead down to one possession, but a late steal by Prep was enough to kill the clock and send the Lady Panthers to the state championships next week.
The Final Score
Seattle Prep 55, Prairie 53
Top Performers:
Seattle Prep
Chinwe Ezeonu- 21 points
Prairie
Brook Walling- 23 points