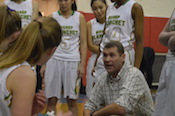 ---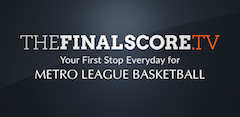 Blanchet Repeats as Metro Champs, Remains Undefeated
By Steve Dion
Friday- February 10th
2017
Girls
3A
Metro Championship
Chief Sealth High School
1st
2nd
3rd
4th
Final
Bishop Blanchet
8
19
18
17
62
West Seattle
15
12
9
10
46
---
Bishop Blanchet Braves – Metro League Champions
The first of two Metro title games at Chief Sealth HS on Friday night was a rematch of a year ago as the top-seeded Bishop Blanchet Braves looked to defend their title against the West Seattle Wildcats. Following their tough win against Garfield on Wednesday night in the semifinal round, Blanchet Head Coach Brett Hecko stated, "West Seattle is the most talented team in Metro", high praise from the man behind the helm of the top-ranked team in the state. Could the young Wildcats hand the Braves their first loss of the season in the league championship round?
For a team playing its third game in four nights, West Seattle jumped out to a hot start by forcing turnovers and attacking the bucket. It caught the Braves off balance who were unable to establish a rhythm until late in the second quarter. Grace Sarver & Jenna McPhee highlighted a relentless defensive performance that yielded the pair double-digit scoring outputs in the first half alone.
However, the Braves found their groove as the first half wore on. Jadyn Bush used her strength in the paint against a smaller Wildcats squad to log 16 points as part of a game-high 27 on a night where the Harvard-bound senior was honored as a first-team Metro selection in addition to Defensive Player of the Year.
As the game wore on, so did the fatigue of the Wildcats which Blanchet capitalized on to ultimately claim the victory. Katie Merrywell tacked on some daggers from beyond the arc to go with more offensive output by Bush. Sarver's valiant attempt to carry the load for West Seattle came up short for the young challengers, and when the fourth quarter elapsed, Blanchet was able to celebrate their back-to-back league championship with a still unblemished record to boot.
As the playoffs continue to unfold, look for a replay of these two exciting teams!
The Final Score
Bishop Blanchet 72, West Seattle 59
Top Performers:
Bishop Blanchet
Jadyn Bush- 27 points
West Seattle
Grace Sarver- 21 points