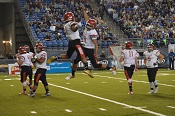 | Saturday | Dec 3rd | 2016 | 2A Final | Boys | Football |
| --- | --- | --- | --- | --- | --- |
| Tacoma Dome | 1st | 2nd | 3rd | 4th | Final |
| Archbishop Murphy | 21 | 14 | 14 | 7 | 56 |
| Liberty (Issaquah) | 0 | 7 | 0 | 7 | 14 |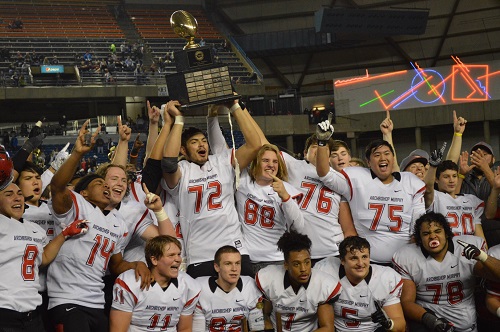 See game recap below
---
Archbishop Murphy Dominates Throughout Season, Wins 2A State Championship

By Colin Caruso
In a year that saw just nine games played for arguably Washington's best high school football program, the Archbishop Murphy Wildcats put the stamp on the season in cruising to a 56-14 win in the state finals over the Liberty (Issaquah) Patriots.
The story from Archbishop Murphy's program this year came in the way of forfeits. Five of their 14 total games were decided without either team stepping on the field, with four consecutive forfeit wins in late August and early September. They went game-less for over a month because their opposition refused to play in fear of injury and demolition. But this didn't slow the Wildcats down.
During the regular season, Archbishop Murphy gave up a total of 6 points. The Patriots put up an astounding 14 in the final. Kudos to Liberty for never giving up for the full 48 minutes, but this game was over after the first quarter.
Quarterback Connor Johnson threw three touchdowns in the first half, and Collin Montez ran for another two, putting the halftime score at 35-7. Connor Johnson would throw for two more touchdowns early in the third, pushing the total to 49-7 heading into the fourth quarter.
For Liberty, an undefeated season ended against a team that five teams refused to play. For Archbishop Murphy, the season ended similarly to the way it started, with a blowout win. Congratulations to both teams, and especially to the Wildcats for capturing their first state title in the 2A classification.
The Final Score:
Archbishop Murphy 56, Liberty (Issaquah) 14.
Top Performer:
Archbishop Murphy
Connor Johnson – 5 passing touchdowns.