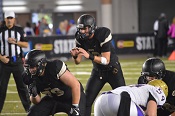 | Saturday | Dec 3rd | 2016 | 1A Final | Boys | Football |
| --- | --- | --- | --- | --- | --- |
| Tacoma Dome | 1st | 2nd | 3rd | 4th | Final |
| Connell | 10 | 0 | 0 | 0 | 10 |
| Royal | 7 | 3 | 15 | 0 | 25 |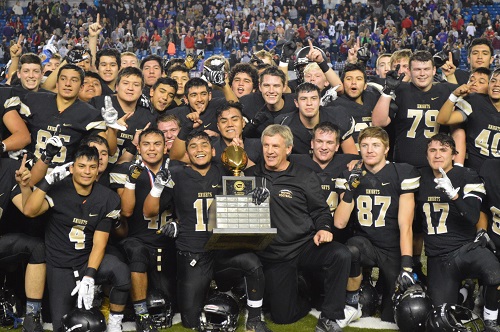 See game recap below
---
Back to Back 1A State Championships for Royal

By Colin Caruso
Five time state champion coach Wiley Allred had his Royal Knights rearing to battle in the 1A state final against the talented Connell Eagles. In their first matchup of the year, Royal squeezed past the Eagles 28-21 in Connell. This time, the stage was set in Tacoma for the biggest game of the year.
Connell came out of the gates on fire, putting together a 7 play, 70-yard drive capped off by a 31-yard TD pass from Brian Hawkins to Steven Kroontje. Royal was ready to respond, putting together their own 3 play dazzling drive that ended in a 62-yard TD pass from Knights QB Kaden Jenks, one of his three total scores of the game. Connell added a field goal late in the first to take a 10-7 lead into the second frame, unbeknownst to the Eagles that this would be their last points in the game.
Royal responded in the second quarter with a field goal of their own to send the game into half tied at 10. Allred clearly had an invigorating halftime speech, as his Knights put up 15 points in the third quarter, on a pass and a run from Jenks, a Weber State commit. He was the story all day long; big hits from the safety position on defense and perfect throws and powerful runs from the quarterback position.
The 15 points in the third quarter pushed the score to 25-10, and that was enough to capture the crown. In a game of well-matched clubs, the Knights prevailed and took home the 1A state crown. Congratulations to Royal High School!
The Final Score:
Connell 10, Royal 25.
Top Performer:
Royal
Kaden Jenks – 3 Total TDs.