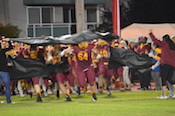 | Friday | Sept. 19th | 2014 | 3A | Boys | Football |
| --- | --- | --- | --- | --- | --- |
| West Seattle Stadium | 1st | 2nd | 3rd | 4th | Final |
| Marysville-Pilchuck | 3 | 0 | 0 | 7 | 10 |
| O'Dea | 7 | 6 | 21 | 0 | 34 |
Game Recap below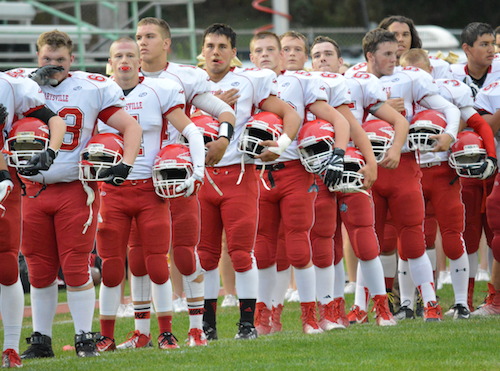 Irish Prove Too Much for Joyner-Less Pilchuck
By Steven Dion
Week three of the high school football season featured a non-league matchup of top dawgs in 3A O'Dea of the Metro League and Marysville-Pilchuck of Wesco. Both teams were capable to running the table in league play, but this would put a blemish on the record of one of the teams in this game. The Tomahawks would be without their elite playmaker on both sides of the ball in Austin Joyner. M-P had their work cut out for them if they were to defeat the powerhouse O'Dea.
The Tomahawks would draw first blood as an errant snap by O'Dea resulted in a turnover and eventually a 39 yard field goal by Sebastian Navarro. This lead would not last long as explosive tailback Myles Gaskin broke off an electrifying 79-yard scamper for six. Davarea Proctor also found himself in the endzone before the first half concluded on a 8 yard run. The Irish brought a 13-3 lead into the locker room.
Gaskin broke the game wide open in the third quarter as 19 and 56 yard rushing touchdowns in addition to a 46 yard punt return score put the game out of reach for Marysville-Pilchuck. The running game of the Tomahawks held their own as a Killian Page score gave the Tomahawks their first touchdown and the final points of the game. O'Dea moves to 3-0 with the 34-10 victory.
Top Performers:
O'Dea
Myles Gaskin- 4 TD's 3 rush (19, 56, 79) 1 punt return (46)