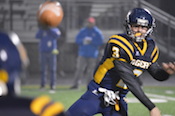 | Friday | Nov. 21 | 2014 | 2A | Boys | Football |
| --- | --- | --- | --- | --- | --- |
| Arlington High School | 1st | 2nd | 3rd | 4th | Final |
| Sedro-Woolley | 7 | 14 | 7 | 6 | 34 |
| Burlington-Edison | 0 | 0 | 0 | 0 | 0 |
Game Recap below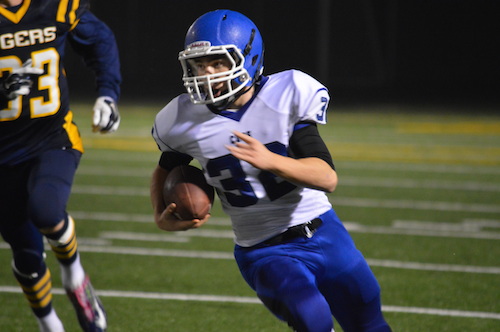 Sedro-Woolley Pitches Mammoth Shutout, Tacoma Dome Bound
By Steven Dion
It is rare to play in the state quarterfinal round against your chief rival from a few miles down the road. The 2A bracket worked in mysterious ways this year to allow such to happen as Sedro-Woolley battled Burlington-Edison at Arlington High School. The bleachers were packed to see this pair of Northwest League foes face each other once again. The SW Cubs took the first round on September 19th in Burlington-Edison by the score of 28-10. Would the Tigers return the favor with a trip to the Tacoma Dome on the line.
Woolley received the opening kickoff in this contest and they never looked back after making a statement on the opening possession. The Cubs moved the chains until they reached the 1 yard line and handed the ball off to their fullback/linebacker captain Quinn Carpenter. The ability to run the ball for big chunks play after play revealed a major discrepancy that defined the contest. Cub quarterback Devin Willard was a magician with the football in the way he delayed handoffs and hid the pigskin. Burlington was unable to get much offensive output early and a Chad Wilburg interception late in the first had SWHS back on the move. Woolley capitalized on the turnover with a 53 yard touchdown run by Jeffrey Barnhart. Minutes later, Wilburg picked off another ball, but took it to the house 33 yards. At the half, S-W held a commanding 21-0 lead.
If Burlington-Edison was to claw their way back into the contest, they would have to get busy early. The Tigers offensive line gave Mason Schwetz ample pass protection early in the third and they moved the ball into Cub territory. However, the drive stalled and a turnover on downs occurred when Quinten Roppel stopped the Tiger tailback on fourth and two. Sedro found the endzone shortly thereafter when Carter Crosby ran a draw play 16 yards to the pylon. Burlington's commitment to the passing game in the stormy elements when Anthony Cann grabbed an interception off a deflection. Cruising to a win, Sedro scored its final points on a 6 yard pass from Willard to Crosby. When the scoreboard read triple zeros, Sedro-Woolley puched their ticket to the semifinals at the woodshed next weekend against Tumwater. FinalScore 34-0.
Top Performers:
Sedro-Woolley
Chad Wilburg – 2 interceptions (1 returned for TD for 33 yards)