---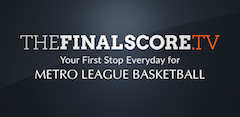 Hale Clips Beach Second Straight Saturday
By Steve Dion
Saturday- February 25th
2017
Boys
3A
Regionals
Bellevue College
1st
2nd
3rd
4th
Final
Rainier Beach
21
17
11
22
71
Nathan Hale
17
17
19
27
80
---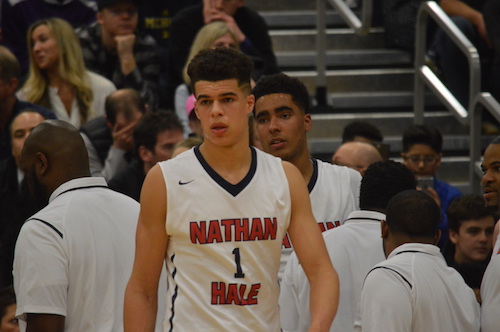 Nathan Hale Senior Michael Porter Jr.
Déjà vu.
It was at this same gymnasium in Bellevue one week ago when the top ranked team in the country Nathan Hale defeat defend Rainier Beach by 4 points, its lowest margin of victory this historic season. That game determined the district championship. Tonight, the stakes were raised as a first-round bye in the state tournament next week was on the line in addition to a favorable route to championship Saturday. Could the Vikings stun the Raiders in their third meeting of the season?
Rainier Beach began its attempt to knock off undefeated Hale early as crafty guard Khalil Shabazz netted 15 first-half points to lead the Vikings in the first half. The highly touted Michael Porter Jr. recorded 14 of his own including some thrilling dunks and acrobatic jumpers. At the break, Beach led 38-34.
A staple of Hale's success this season is their ability to execute in the second half and that's exactly what they did in this contest. Porter continued to carry the load adding another 10 in the third frame as the Raiders gained the lead heading into the final quarter. In addition, P.J. Fuller ignited the crowd with a huge block and 16 massive points to go with it.
Much like last week's matchup, Beach fought back with N'Keil Nelson attacking the cup to add to his scoring total which finished at 18. However, a late Porter triple served as the dagger which sealed the victory for Brandon Roy's still undefeated Hale squad. They retain their top seed heading into the state tourney which sets them up nicely for a clear route to the championship game.
The Final Score
Nathan Hale 80, Rainier Beach 71
Top Performers:
Nathan Hale
Michael Porter Jr.- 39 points
Rainier Beach
Khalil Shabazz- 24 points