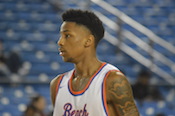 ---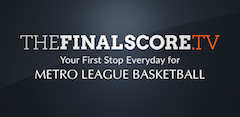 Beach Opens Title Defense Victorious, Garfield Next
By Steve Dion
Wednesday- March 1st
2017
Boys
3A
Hardwood Classic
Tacoma Dome
1st
2nd
3rd
4th
Final
Bellevue
4
12
7
15
38
Rainier Beach
20
27
9
13
69
---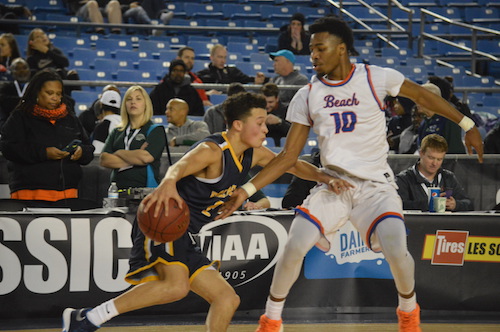 It's never a question of whether Rainier Beach will be here, it's how far they'll go. In the last handful of seasons, Mike Bethea's has built a dynasty compiling 4 of the past 5 state titles. This season, the road to hoist the hardware will be a much tougher challenge. The Vikings quest for another title run began Wednesday night with a matchup against perennial KingCo power Bellevue. The winner would earn a quarterfinal matchup with Garfield on Thursday.
The defending champs made quick work of a young Wolverines squad from the opening tip. N'Keil Nelson's toughness in the paint was too much for Bellevue's interior defense and allowed the Beach wing to record 13 first-half points as part of a game-high 20. Additionally, Khalil Shabazz's lock-down defense forced several turnovers leading to transition buckets for Kevin Porter Jr. who finished with 18.
The Wolverines were able to string together a more competitive second half even though the damage was done. Spencer Birkeland was able to reach double figures, but the experience Vikings held BHS to 38 points in the ballgame. Mike Bethea was able to get 9 Vikings in the scoring column in this convincing opening-round win.
Rainier Beach opens the Hardwood Classic in dominant fashion, but the road quickly gets tougher. They'll battle the Bulldogs of Garfield tomorrow for the fourth time this year. A win would even the season series at two apiece, but at this stage, it's win or go home. Make sure to catch the live broadcast of Thursday's primetime matchup at www.theFinalScore.TV!
The Final Score
Rainier Beach 69, Bellevue 38
Top Performers:
Rainier Beach
N'Keil Nelson- 20 points
Bellevue
Spencer Birkeland- 10 points
---