| Friday | Nov 6th | 2015 | 4A | Boys | Football |
| --- | --- | --- | --- | --- | --- |
| Issaquah High School | 1st | 2nd | 3rd | 4th | Final |
| Issaquah | 7 | 21 | 0 | 0 | 28 |
| Olympia | 0 | 7 | 7 | 0 | 14 |
See game recap below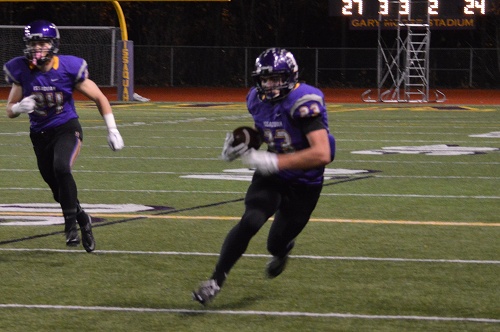 ---
Issaquah Avenges Regular Season Loss, Prevails Against Olympia
By Steve Dion
We have reached the "survive and advance" point of the season where a win retains the quest to the Tacoma Dome. An intriguing "play-in" matchup on Friday night featured round two between Issaquah and Olympia. These two non-league squads played just over a month ago in the state capital in which the Bears defended their home turf and won 32-14 in Ingersoll Stadium. For this one, Olympia (7-2) reciprocated by traveling north to the Sammamish plateau to take on Issaquah (6-3) as the second place finisher in the KingCo4A was pitted against the Narrows runner-up.
Both teams got off to a slow start with short-lived possessions as the opposing defensive units caused difficulty for the offense to move the chains. Issaquah took the first step grabbing momentum through their defensive intensity especially demonstrated in Eagle linebacker Danny Flores. His energy resonated to fellow teammates when Issaquah broke the deadlock at 1:51 in the first quarter. Connor Pederson took an interception 47 yards to the house after getting key blocks en route to the pylon. Pederson also kicked the extra point showing his versatility on the field. At 7:54 in the second frame, Bryce Hughes was rewarded from a handful of chunk runs when he punched in a 3 yard score to which the home crowd yelled Huuuuuuughes! Olympia furthered their uphill battle in the first two quarters by shooting themselves in the foot with personal fouls. However, before the first half concluded the Bears commitment to the run was rewarded when Scott Gunther turned what initially was a stop at the line of scrimmage into a 42 yard touchdown run. Issaquah responded with a 29 yard pass from Cam Humphrey to Pederson moments later. The Eagles were still hungry. Hughes scampered 30 yards for a pick six twenty seconds after the ensuing kickoff pushing the lead to 28-7 at the break.
The three touchdown lead built by the home team proved to be sufficient to prevail even though they were unable to score in the final twenty-four minutes of the ball game. The Eagle defense held the Bear attack at bay enough by only allowing a lone touchdown in the second half. The non-league opponents split the season series 1-1, but Issy gets the one that counts. Olympia concludes their season 6-4. Hopefully this organically created rivalry continues in years to come!
The Final Score:
Issaquah 28, Olympia 14
Top Performer
Issaquah
Connor Pederson – 2 TDs (47 yard interception return, 29 yard reception), 3 interceptions