Tag Archives:
Bothell-Ross Bowers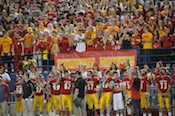 | Saturday | Nov. 29 | 2014 | 4A | Boys | Football |
| --- | --- | --- | --- | --- | --- |
| Tacoma Dome | 1st | 2nd | 3rd | 4th | Final |
| Bothell | 13 | 7 | 10 | 7 | 37 |
| Newport-Bellevue | 0 | 13 | 6 | 0 | 19 |
Game Recap below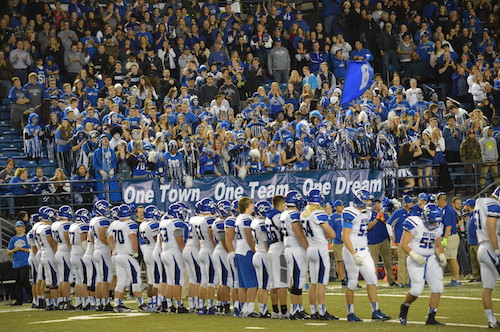 Bothell Explosive in Second Half to Reach 4A Final
By Steven Dion
Tom Bainter is one win away from a perfect season and capturing his first state title. His Cougs were matched with KingCo foe Newport in the 4A semifinal at the Tacoma Dome. The Knights quietly made an impressive playoff run to reach the semis with wins over Lake Stevens and Federal Way. A big question surrounding Bothell's ability to claim the championship is their ability to fill the shoes of star tailback Sam McPherson. The Blue Train did not appear to lose much steam in the opening rounds of the postseason, but would Newport and their complex run-game and stout line pull an upset?
The Knights commitment to the run was evident early, but they coughed the ball up twice early in the contest leading to Bothell points including a 37 yard return by Jordan Baker. After conducting a blowout against Bellarmine last week, it seemed the Cougars were poised to do the same Saturday night. However, Newport put together a strong second quarter starting with a 14 play, 71 yard drive capped off with a Nick Keithley dive from the 1 yard line. After the ensuing kickoff, NHS recovered the football on a bobbled snap resulting in a Thomas Day touchdown two plays later. The lead was restored by the blue and white when Ross Bowers connected with Jackson Keimig shortly before halftime. Bothell led 20-13 with 24 minutes to play.
Newport conducted a signature long drive to open the second half which was capped off with a Thomas Day highlight-reel run from 26 yards out. The Knights ran the ball on 54 of 57 plays from scrimmage. While this led to success for most of the game, it eventually led to Bothell's ability to clamp down. Led by hard-hitting Tyler Wharf and his 8.5 tackles, Bothell's defensive front gave their offense ample time of possession to put the game away. Dayzell Wilson hauled in a jump ball despite tight coverage and a wide open strike for 41 yards in a span of four minutes to ice the game. The Cougars will play the defending champions Chiawana next week for the 4A title.
The FinalScore – Bothell 37, Newport 19.
Top Performers:
Bothell
Ross Bowers- 12/15, 172 yards, 3 TDs
Dayzell Wilson- 5 rec, 76 yards, 2 TDs
Newport
Thomas Day- 13 rush, 71 yards, 2 TDs

| Friday | Sept. 26th | 2014 | 4A | Boys | Football |
| --- | --- | --- | --- | --- | --- |
| Pop Keeney Stadium | 1st | 2nd | 3rd | 4th | Final |
| Mount Si | 0 | 0 | 0 | 13 | 13 |
| Bothell | 17 | 14 | 6 | 6 | 43 |
Bothell Maintains Dominance
By Colin Caruso
Pop Keeney welcomed the Mount Si Wildcats to take on the #1 team in the state in 4A football, the Bothell Cougars. It was Homecoming for the Cougars, who have dismantled their opponents this year by a total score of 173-59. This game was par for the course for the Cougars, who jumped all over the Wildcats early and often.
Three first half touchdowns for Sam McPherson and the Cougars led to a 31-0 halftime score. They also amounted two interceptions on defense and blocked two punts in the first half. It was a superb effort for the Cougars, 4-0, who click on all sides of the ball. McPherson would add another rushing score in the second half, and a kick return TD, giving him 5 touchdowns on the day.
Mount Si, despite being a larger team than Bothell, could not get off the ball with the same pace and tenacity as the Cougars. The Cougar crowd was in full force for the Homecoming festivities, and their team played with the pace needed to secure a good victory.
Mount Si falls to 2-2 on the year, an unfamiliar place for them, as the past few years they have been at the top of 3A/2A KingCo, right behind the Wolverines of Bellevue. This jump to the bigger 4A division has shown its difficulties, and Mount Si will have to battle through that. A roster of over 15 seniors should bring this team back with a force to finish the year strong.
But this night belonged to McPherson and the Cougars. A final score of 43-13 closed Friday night for Pop Keeney, and Bothell was able to celebrate their Homecoming with a victory.
Top Performers:
Mount Si
Jonathan Hillel – 14-22 150 yards, 2TD, 2INT
Bothell
Sam McPherson – 15 carries for 109 yards and 4TD, 90 yard KO return for TD
Ross Bowers – 16-23 205 yards, 1TD 1INT