| Saturday | Nov 30th | 2013 | 4A | Boys | Football |
| --- | --- | --- | --- | --- | --- |
| Tacoma Dome | 1st | 2nd | 3rd | 4th | Final |
| Bellarmine Prep | 7 | 7 | 0 | 7 | 21 |
| Camas | 21 | 14 | 7 | 7 | 49 |
See game recap below
---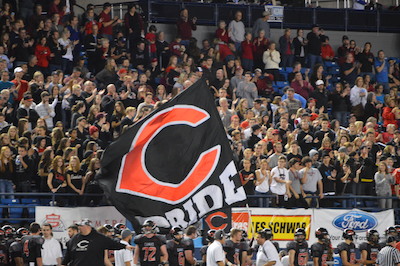 Too Much Hennessey for Bellarmine, Camas Advances to 4A State Final
By Colin Caruso
In the primetime game at the Tacoma Dome on semifinal Saturday, the Bellarmine Prep Lions faced off against the Papermakers of Camas for a trip to the 4A state final. Bellarmine came into the contest with two losses this season, Camas entered undefeated.
The Papermakers came out strong in this contest, scoring two touchdowns in the first five minutes of the game, both on passes from Reilly Hennessey to Zach Eagle. Bellarmine was able to respond with a Garrett McKay touchdown catch later in the quarter, but the Papermakers kept the pressure on with another scoring drive to close the quarter with a 21-7 lead.
Of the Papermakers six first half possessions, five resulted in touchdowns. Bellarmine could not find a way to slow down the Papermakers, who amassed 406 first half yards. Camas led 35-14 at the break.
Scoring slowed down in the third quarter, with only a Jason Vailea touchdown run for the Papermakers, his second on the night. Bellarmine did put together a great drive in the quarter but a fourth down touchdown pass by Lou Millie was negated by an illegal forward pass which gave the ball back to Camas.
With the game in hand, both teams added another score in the fourth quarter. Camas closed Bellarmine Prep's season with a commanding 49-21 win. The Papermakers will play Chiawana on December 7th for the 4A state championship.
Top Performers:
Bellarmine Prep
Lou Millie – 13/25 for 183 yards and 2TD
Garret McKay – 5 catches for 89 yards and 2TD
Camas
Reilly Hennessey – 21/32 for 343 yards and 3TD
Zach Eagle – 11 catches for 170 yards and 3TD
Nate Beasley – 27 carries for 128 yards and 1TD