| Saturday | Nov 16th | 2013 | 4A | Boys | Football |
| --- | --- | --- | --- | --- | --- |
| Newport High School | 1st | 2nd | 3rd | 4th | Final |
| Bellarmine Prep | 0 | 14 | 7 | 17 | 38 |
| Newport | 14 | 14 | 0 | 7 | 35 |
See game video highlights below
---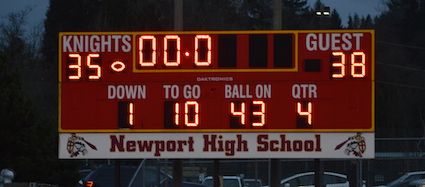 Bellarmine Rallies to Shock Newport
By Steven Dion
The second round of the gridiron postseason featured a marquee matchup between a strong pair of 4A programs in Newport and Bellarmine Prep. Both teams entered the contest with a 7-2 record and a ticket to the final eight up for grabs. Despite cold temperatures and chilling winds, both sidelines were packed with enthusiastic fans rooting on their schools.
The home team got down to business early as the Knights found the end zone twice in the first frame; once through the air and the other on the ground. A 51 yard Drew Sample reception and 52 yard scamper by Conner Baumann created an early 14-0 lead. Baumann's 6'3 222lb frame continued to punish the Lions' front seven by notching two more TDs in the first half. The Lions built some momentum late in the 2nd by punching in two scores from QB Lou Millie to Garrett McKay. After trailing 21-0, it was evident that if Bellarmine were to stage a comeback, they would not be able to surrender another score. At the half, the Knights led 28-14.
Both teams exited the locker room with a mindset of increased defensive intensity. Lion linebacker Brandon Thompson and Knight D-line captain Bennett Long were two standout performers on defense, assisting in the process of forcing punts. The lone fumble of the contest was recovered by Newport at the 7:19 mark of the third and appeared a touchdown was the only thing separating them from securing a victory. Minutes later, Bellarmine found themselves in the end zone on a Jamal Ervin run. Newport's fifth and final TD came early in the 4th, a 54 yard grab by Sample. Trailing 35-21 with only three minutes remaining, the Lions pulled within a score on a McKay touchdown. After a quick three-and-out by the Knights offense, Bellarmine had the ball once again. A run by Ervin and a two point conversion that appeared incomplete to the Newport sideline brought the game to a 35-35 tie.
The hungry BPHS defense forced a turnover on downs less than a minute later and set up kicker Matthew Philichi for a game winner from 20 yards out. The ball sailed through the uprights and sealed an improbable comeback for the 2012 state runner-up. Bellarmine ventures on, Newport finishes with a respectable 7-3 record.
Top Performers:
Bellarmine Prep
Garrett McKay – 3 rec TDs of 57, 12, and 12 yards

Newport
Conner Baumann – 3 rushing TDs of 54, 52, and 4 yards