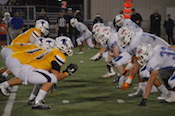 | Thursday | Sep 22nd | 2016 | 4A SPSL | Boys | Football |
| --- | --- | --- | --- | --- | --- |
| Sumner High School | 1st | 2nd | 3rd | 4th | Final |
| Graham-Kapowsin | 13 | 0 | 0 | 14 | 27 |
| Sumner | 0 | 14 | 7 | 13 | 34 |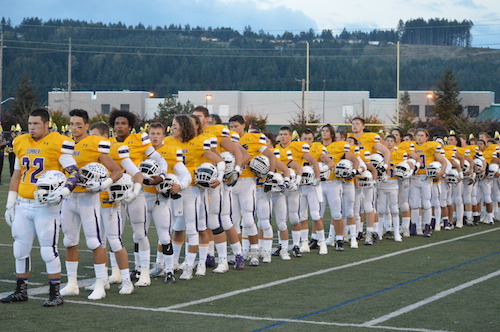 See game recap below
---
Sumner Survives SPSL Shootout with Graham-Kapowsin

By Steve Dion
It is rare that a league title can be won in September, but Thursday night's SPSL showdown between #1 Sumner and #4 Graham-Kapowsin has the potential to determine just that. These two teams have separated themselves as the class of the conference which opens up the possibility that the winner could run the table to a conference championship.
GK opened strong with a scoring drive that culminated with a goal line plunge by Brandon Becker. The opening play from scrimmage by the Spartans on the ensuing drive went awry as a flea flicker by Connor Wedington resulted in the star running back absorbing a big tackle. The hit sent him to the sideline for a bit to catch his breath.
Shortly thereafter, Micah Smith gave the Eagles a 13-0 lead with a 70 yard scamper up the gut aided by the tremendous blocking of Foster Sarell and Matt Shook.
Sumner struck back in a big way when Tyson Rainwater recorded a pick-six from 43 yards out to prevent the Spartans from falling three scores behind. Before the first half concluded, Luke Ross took advantage of broken coverage and found a wide open Tre Weed to give the home team a one point lead heading in the break.
As the second half wore on, this battle was still up for grabs. A Sumner drive early in the fourth pushed the Eagles defense to bend, but not break. They held the Spartans to a field goal and a four point lead. GK proceeded to move the ball methodically down the field on a heavy dose of Micah Smith carries with the clock continuing to tick. Becker capped off the drive with another goal line push to send the Graham-Kapowsin sideline into exhilaration.
Sumner wasn't done.
On the ensuing kickoff, Wedington took the kick 90 yards to the house in which he bounced off GK tacklers like a pinball. The return handed the lead back over to the #1 ranked team and they didn't look back. Tre Weed picked off a desperation pass to put the game on ice. The Spartans hang on for a thrilling win between heavyweights.
Welcome to 4A, Sumner!
The Final Score:
Sumner 34, Graham-Kapowsin 27.
Top Performer
Sumner
Connor Wedington- 90 yard game winning kickoff return TD
Tre Weed-2 TD receptions (43,63), 2 interceptions
Graham-Kapowsin
Brandon Becker- 2 rushing TDs
Micah Smith-70 yard rushing TD