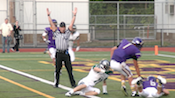 | Friday | Sept. 5th | 2014 | 4A | Boys | Football |
| --- | --- | --- | --- | --- | --- |
| Gary Moore Stadium | 1st | 2nd | 3rd | 4th | Final |
| Skyline | 21 | 13 | 7 | 7 | 48 |
| Issaquah | 7 | 0 | 7 | 7 | 21 |
Video Highlights and Game Recap below.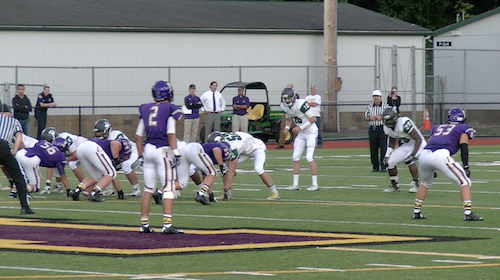 Skyline Makes Quick Work of Issaquah
By Colin Caruso
Welcome back to High School Football! It truly is like Christmas every Thursday through Saturday when the Gridiron starts rolling. Our first game of the year, and a matchup of two teams who battled for a playoff berth last year, saw the Skyline Spartans face off against the Issaquah Eagles at a packed Gary Moore Stadium. Last year's matchup was a battle to the end, with Skyline defeating the Eagles by a final of 30-17 on the back of a 27 point third quarter. This year's matchup was far from close, as the Spartans dominated the line of scrimmage and the football game.
Rashaad Boddie (pronounced body) rumbled for four first half touchdowns for the Spartans, two on quick passes, and two on rushes up the middle. The Eagles could not match the size discrepancy on the lines, with their line averaging around 200 lbs. and Skyline's line averaging around 250 lbs. Blake Gregory, Skyline's junior quarterback added another score on a 2 yard scamper to finish off the first half with a Spartan 34-7 lead.
Skyline began to pull starters midway through the 3rd quarter, but still maintained their commanding lead. The game ended in a 48-21 blowout, with the Spartans starting off their promising season on the right foot. Coach Mat Taylor and company will like to make another run at state from the 4A King-Co conference, but will find great challenges in the upcoming weeks with Bothell and Eastlake.
Top Performers:
Skyline
Rashaad Boddie- 4TDs – 2 receiving of 81 and 58 yards, 2 rushing of 16 and 1 yards
Issaquah
Cam Humphrey- 2TD passes of 29 and 13 yards