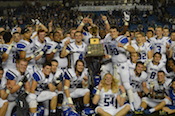 | Saturday | Dec. 6 | 2014 | 4A | Boys | Football |
| --- | --- | --- | --- | --- | --- |
| Tacoma Dome | 1st | 2nd | 3rd | 4th | Final |
| Bothell | 10 | 0 | 14 | 0 | 24 |
| Chiawana | 0 | 0 | 7 | 7 | 14 |
Game Recap below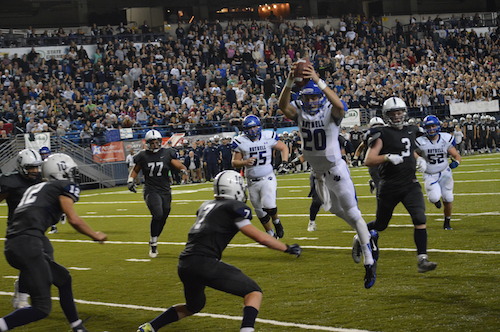 Bothell! Bothell! Bothell! 4A Champions!
By Colin Caruso
In a game that had the Tacoma Dome on the edge of their seats throughout, the Bothell Cougars proved they were the best team in 4A Washington State football with an amazing win over the defending champions, Chiawana Riverhawks. Knowing full well that Chiawana won the title last year by scoring 14 points in the final minute of the game, Bothell had to keep the pressure on the Riverhawks for the full 48 minutes of play.
Bothell began the game with a stifling first half. Caleb Meyer rushed for a TD on their opening drive, and the Cougar defense closed the door for the next 21 minutes of football. Cougar defensive linemen were living in the Chiawana backfield; Riverhawk quarterback Logan Ellsworth spent the first half running for his life.
When the Riverhawks finally broke deep into Bothell territory late in the second quarter, the Cougars intercepted Ellsworth in the end zone to end the first half. Bothell took a 10-0 lead into the locker room.
The second half started with another great defensive stop for the Cougars, forcing a punt and scoring on that ensuing possession. It would be Ross Bowers only touchdown pass of the day, this to Dayzell Wilson to take a commanding 17-7 lead.
But the Riverhawks would not go down easy, responding with a Austin Urlacher touchdown run to cut the lead to 10 late in the third.
Bothell responded in the most magnificent way. They drove 63 yards in just over 3 minutes, and scored on the best play of the year. Ross Bowers, on a third and goal saw pay dirt on a scramble. He rushed to the left and leaped for the end zone, ball extended. He flipped over a Riverhawk defender, flew about 5 feet in the air, and secured the landing on both feet for a Cougar score. The Bothell sideline exploded. It was one of the most courageous efforts from a quarterback, who knew he wanted to lead his team to victory.
Even with this demoralizing score, the Riverhawks found a way to respond. Cortez Ruiz caught a 37 yard strike just 3 minutes later to again trim the lead to 10 points. But Bothell would not stop fighting on defense. Their next possession resulted in a punt, and the Cougars again stifled the Riverhawk attack. After forcing a turnover on downs, the Cougars close the game in the victory formation, winning their first ever state championship.
The FinalScore – Bothell 24, Chiawana 14.
Top Performers:
Bothell
Ross Bowers – 17-19 for 216 yards and 1TD, rushing TD
Caleb Meyer – 12 carries for 105 yards and 1TD
Chiawana
Austin Urlacher – 21 carries for 101 yards and 1TD